Join Backscatter's Berkley White & Adobe Lightroom expert Erin Quigley exploring the Banda Sea in Indonesia on one of the newest luxury live-aboard dive boats, Samambaia. This trip will cover a large area offering a stunning variety of dive sites with amazing wide-angle and macro photo opportunities. Berkley and Erin will be on hand to assist with UW photo techniques, offer technical support, and teach post-production workflow in Adobe Lightroom.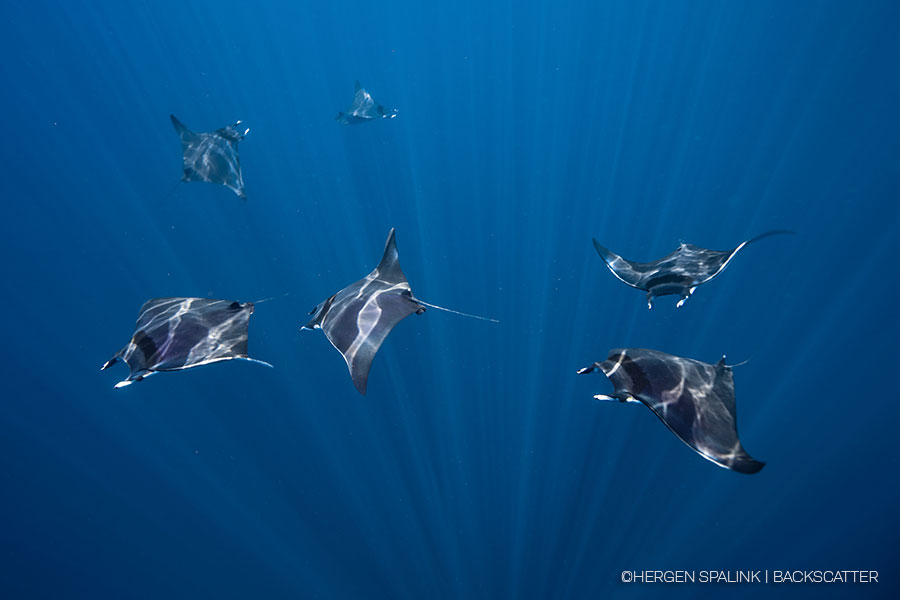 Maumere to Ambon, September 15-27
Our first trip starts in Maumere and will travel east toward the Banda Sea. We'll make stops in Lembata and Beangabang for some world-class macro photography. Rhinopias, seahorses, frogfish, octopus, and pipefish are just some of the amazing critters that call this area home. We'll also pass the active volcano of Komba which spectacularly erupts every 15-20 minutes on our way to Alor, Pura, and Wetar islands. This region offers some action-packed diving with the potential for big stuff like mola mola, big dogtooth tuna, and thresher sharks.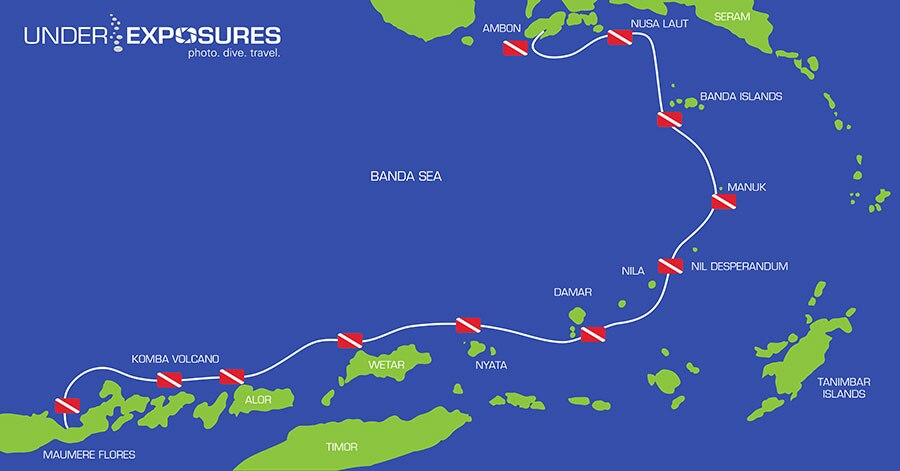 From there we'll enter the Banda Sea and explore this vast region. Volcanic islands surrounded by deep water create rich diverse coral reefs home to thousands of species of fish, invertebrates, sea snakes, and other marine life. As we cruise along the natural migratory paths of marine mammals such as whales and dolphins we might also encounter mantas, mobula rays, and schooling scalloped hammerhead sharks. The deep blue water of the Banda Sea never ceases to amaze even the most experienced divers and photographers.
The trip will end in Ambon Harbor, known for its incredible muck diving and the very rare psychedelic frogfish.
Ambon to Ambon, September 29 – October 11
On this trip, we'll explore the famous spice islands of the Banda Sea at the absolute best time of the year.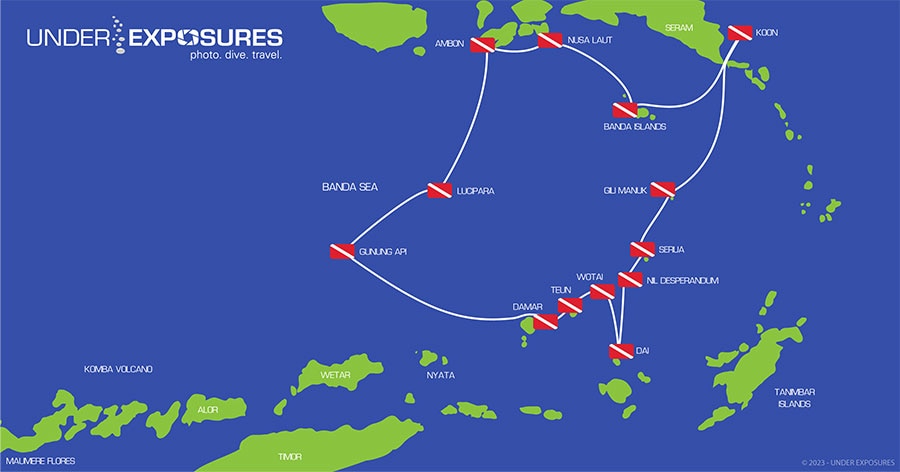 Banda Neira
Presided over by an active volcano, the Banda Islands are home to rich, diverse coral reefs. You'll find over a thousand species of fish including large Napoleon wrasse, bump head parrot fish, coral groupers, various snappers, as well as smaller critters such as mandarin fish, ghost pipefish, nudibranchs, and many cephalopods. Divers will also find that large spotted eels like to make an appearance from the shelter of barrel sponges.
The rich history of these remote islands is also a perfect opportunity to visit Fort Belgica and the people of Banda Neira and learn how nutmeg shaped the region and world history.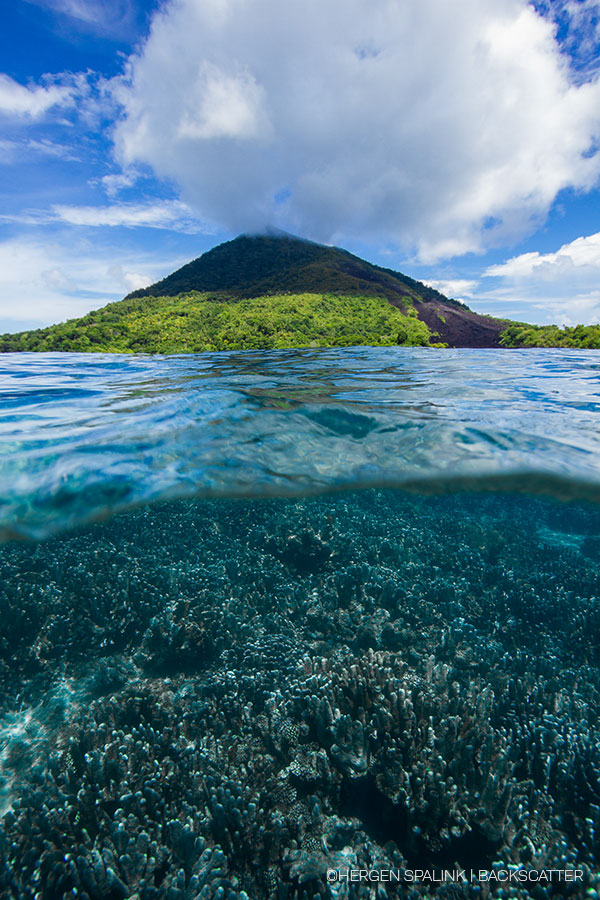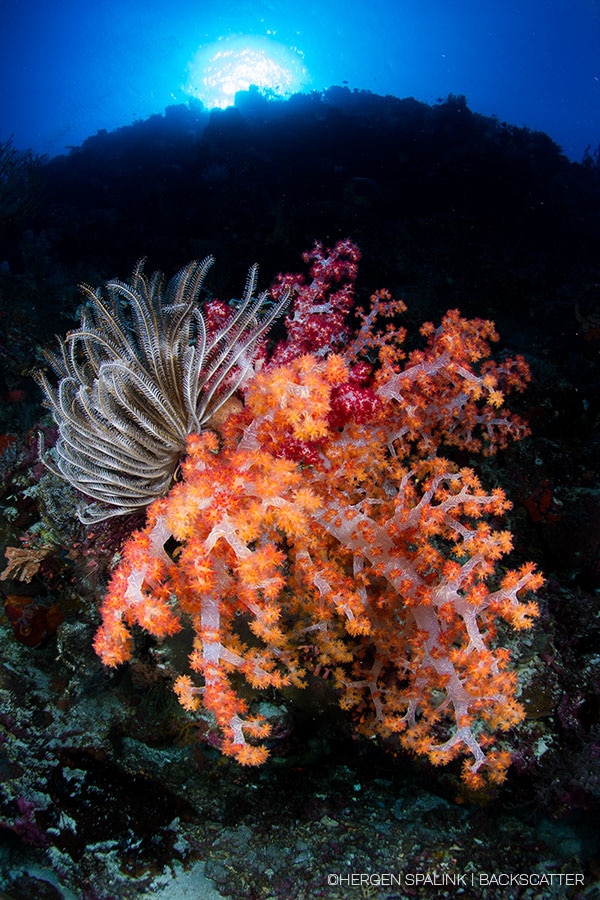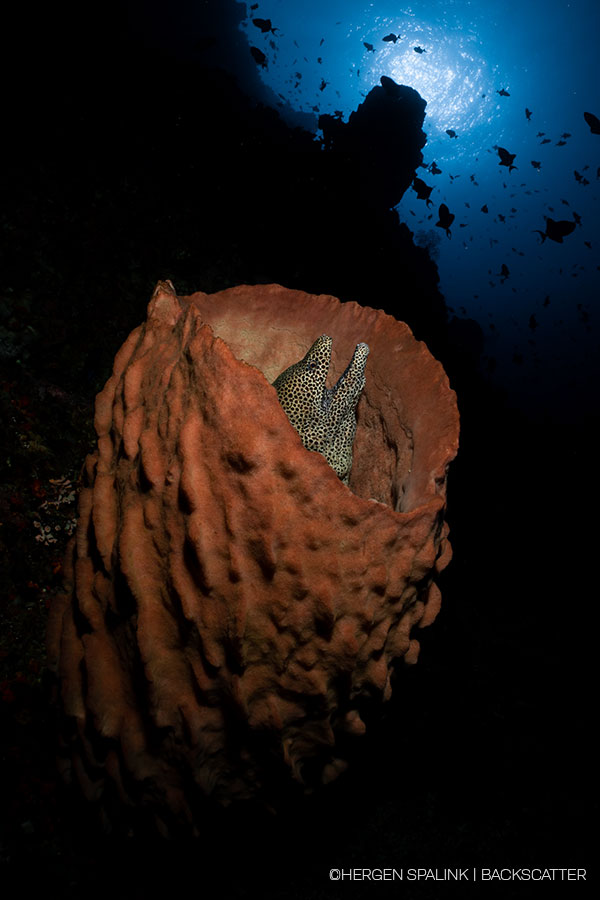 Koon
With a dive site named Too Many Fish, it's easy to guess what you're going to see. The peninsula of Noon juts out into the Banda Sea and transitions from wall to white sand plateau back to wall. Beautiful hard and soft corals line the walls while schooling fish meander through large coral bommies above the white sandy plateau. Health shallow coral gardens make for excellent post-dive snorkels or shallow hard coral shots.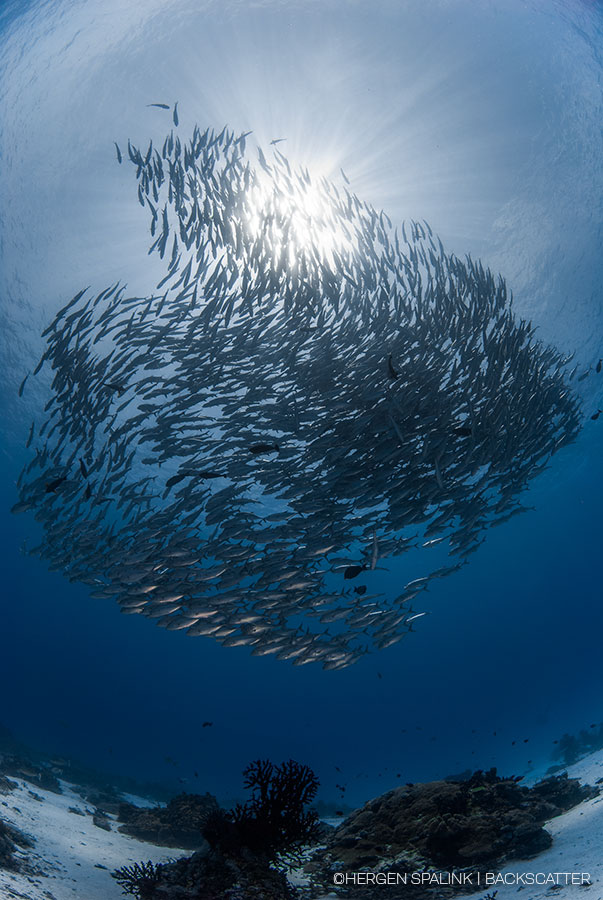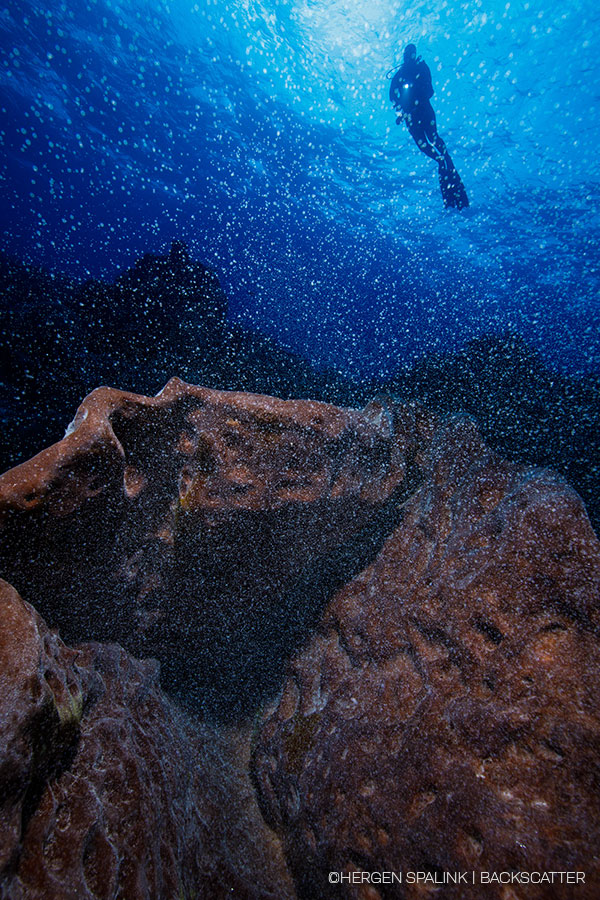 Gili Manuk
An active volcano that juts up from the depths of the Banda Sea is home to some of the signature species of this itinerary. The island is home to a large population of olive and banded sea kraits, and terrestrial snakes that hunt along the reefs during the day and sleep on the island at night. As they head to the surface to breathe they often stop by divers for a closer look. A variety of megafauna also frequents the island such as whales, mobula rays, and schools of scalloped hammerhead sharks. Topside the island is a nesting ground for sea birds.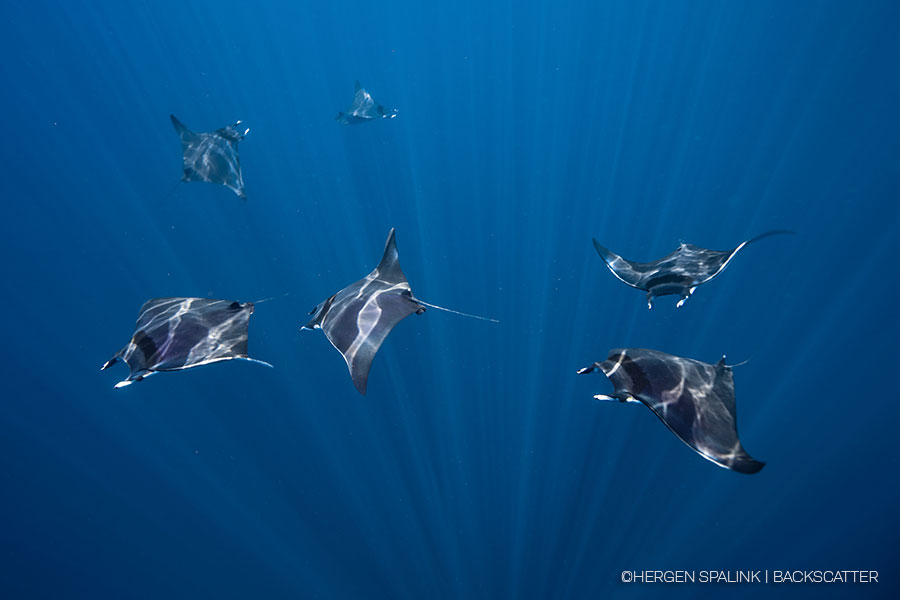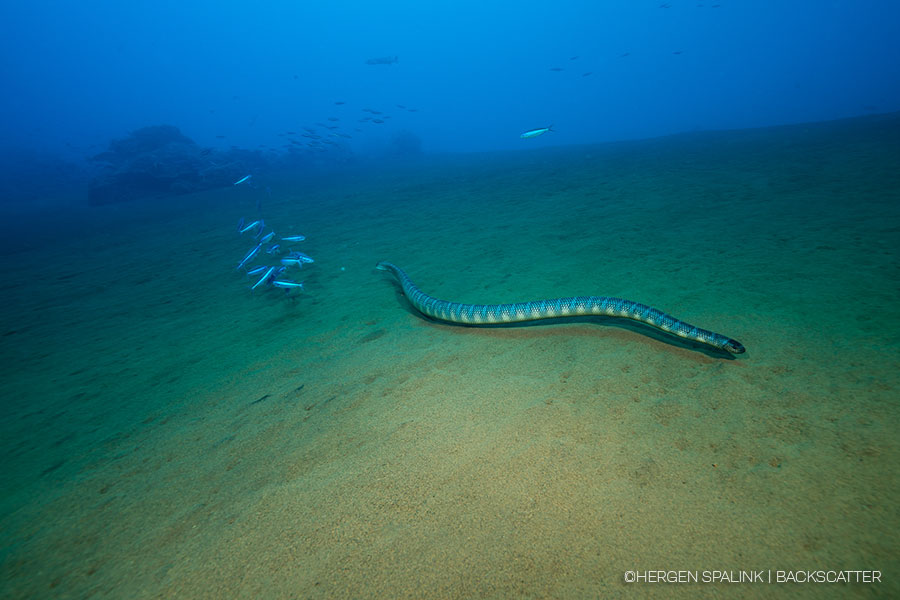 Serua
The island of Serua has one of the best soft coral dives of the region with pastel-covered reefs that explode with anthias and other colorful reef fish. The sloping reef and walls also feature large barrel sponges and hard corals to round out the reefscape.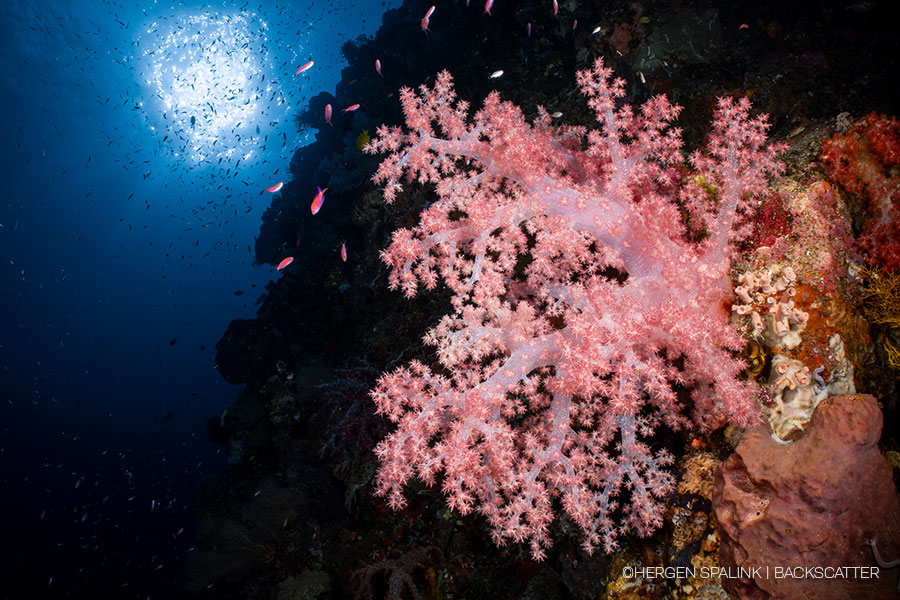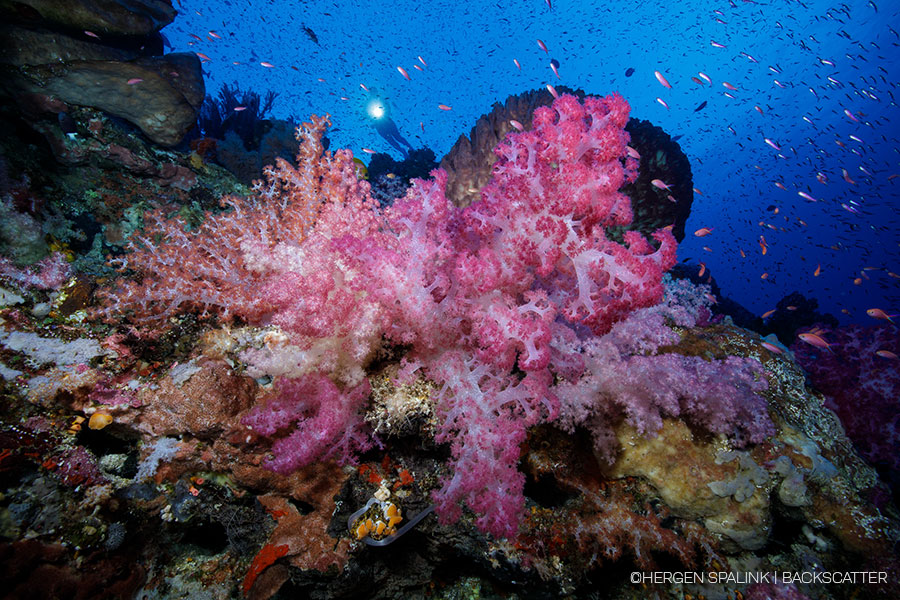 Nil Desperandum
Nil Desperandum barely breaks the surface at low tide but what lies beneath the waterline is an excellent mix of coral-covered steep slopes and stunning hard coral shallows. The pastel soft corals and schools of anthias enhance the healthy coral garden's atmosphere.
On a few of the steep walls, with the water temps cool enough and just the right amount of current, schooling hammerheads have been known to make appearances.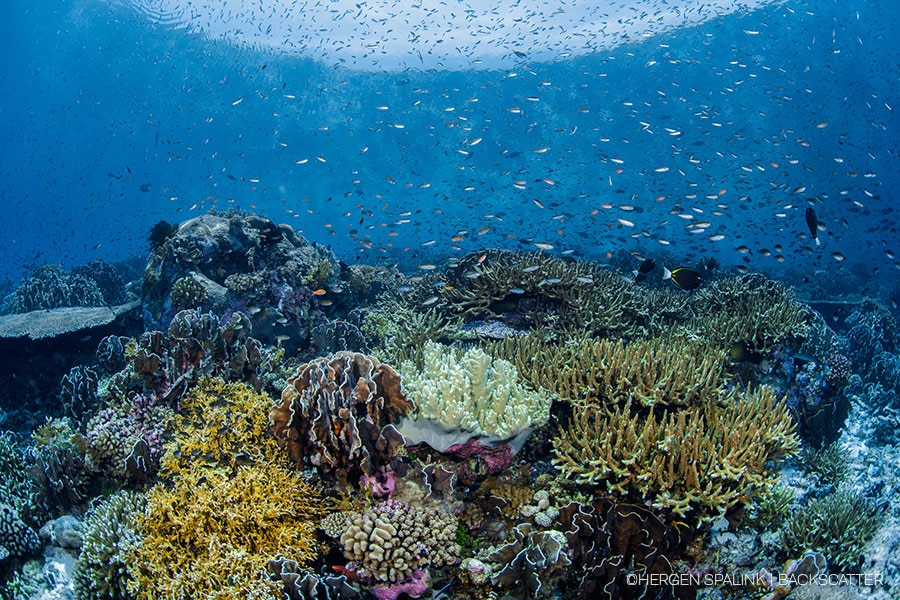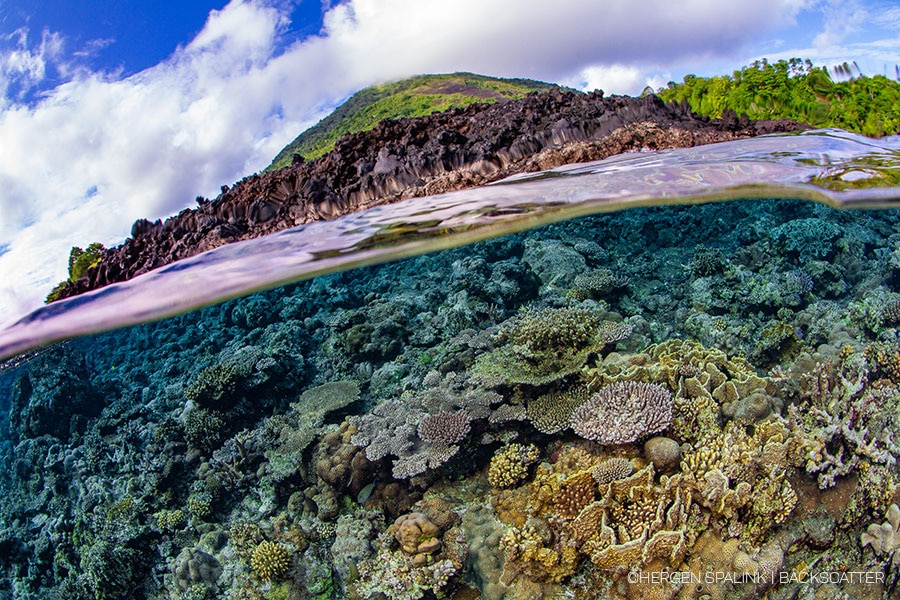 Teun
The remote island of Teun is home to soft coral walls that slope away from a stunning plate coral-topped reef. Swarming with anthias, the coral reefs capes are a diver and photographers paradise.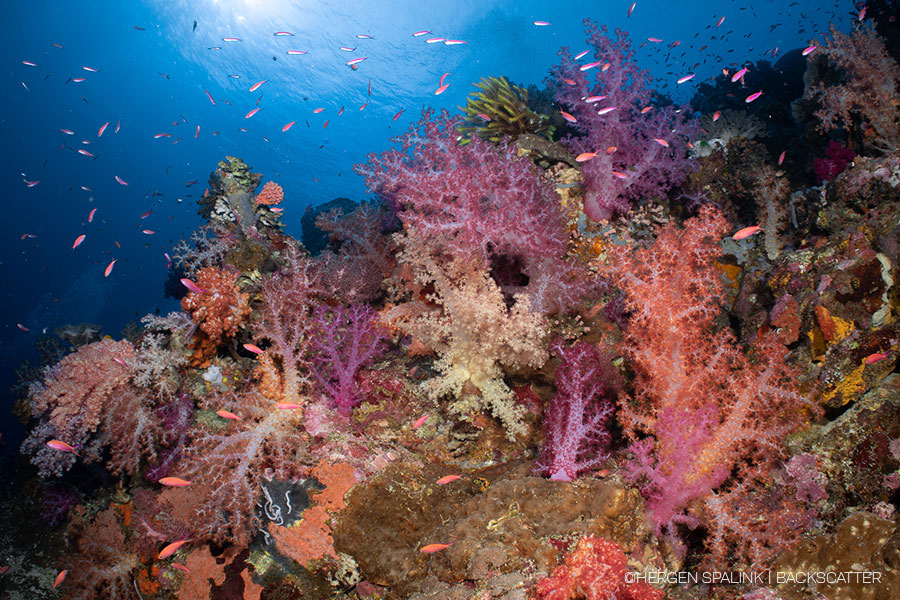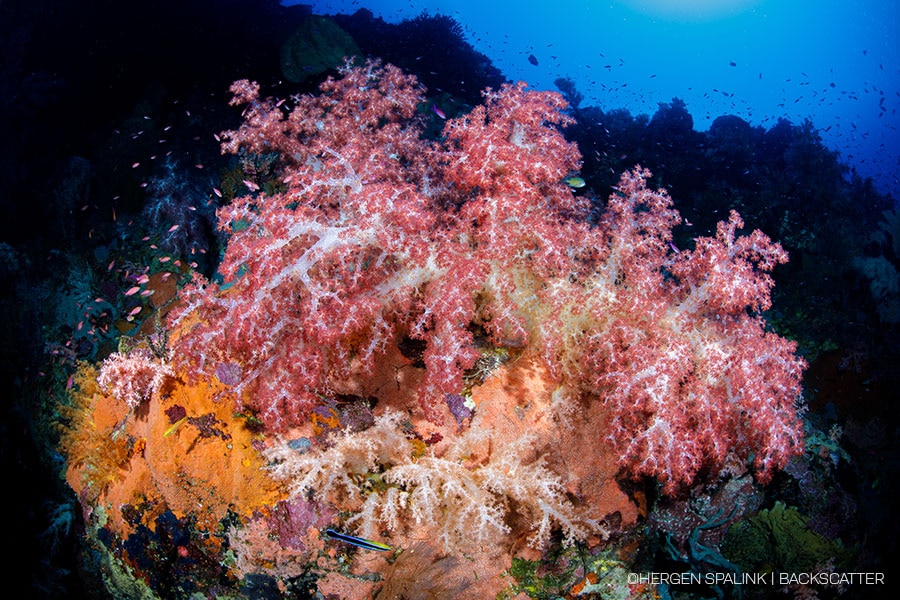 Wotai
Wotai's hard coral-covered reef top slopes away to reveal soft coral walls and incredible fish life. Curious schools of batfish mix with butterflyfish and red tooth triggerfish.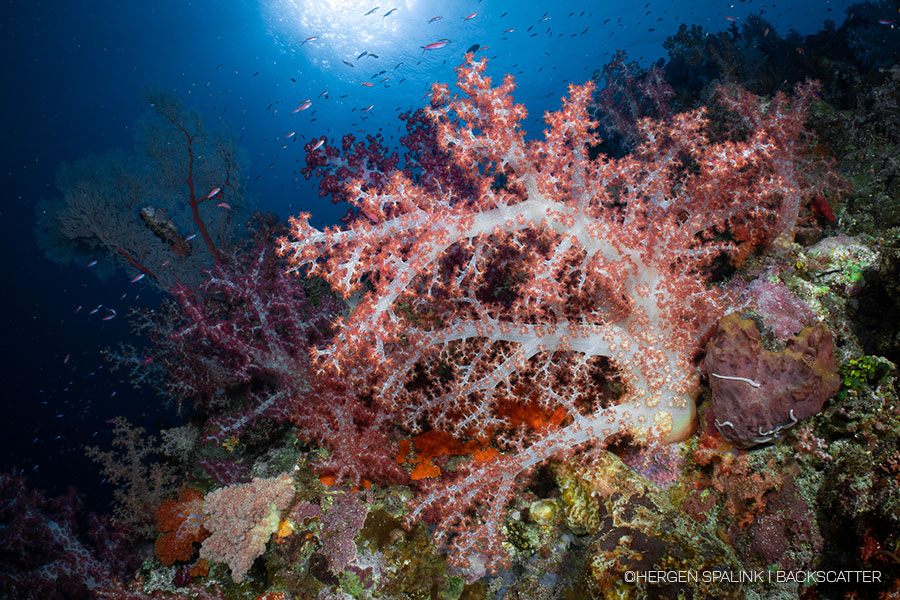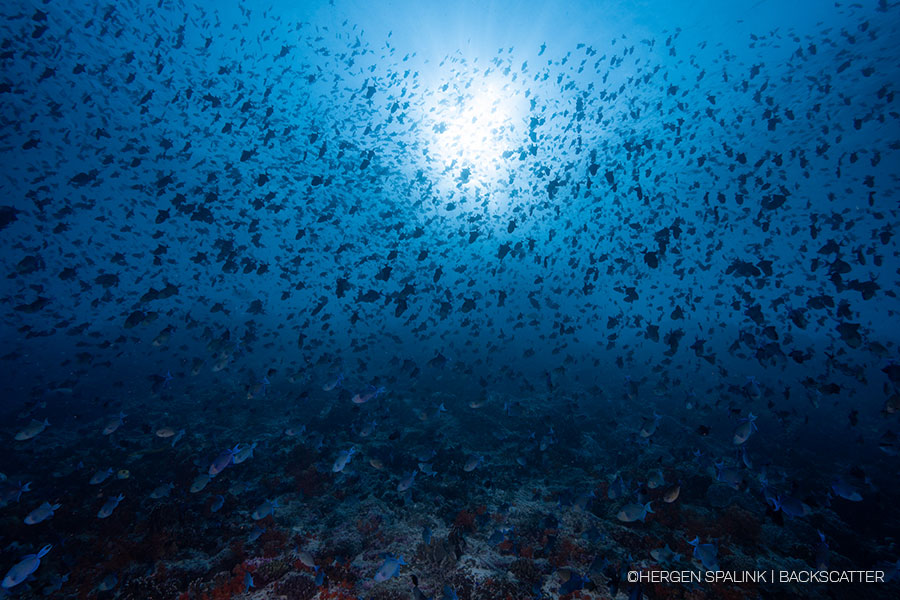 Damar
Damar features some of the largest and most precariously located barrel sponges of all the Banda Sea islands with individuals sticking feet off the reef over steep walls or lining to the underside of a ledge. Beautiful anemones and soft corals dot the slopes as well.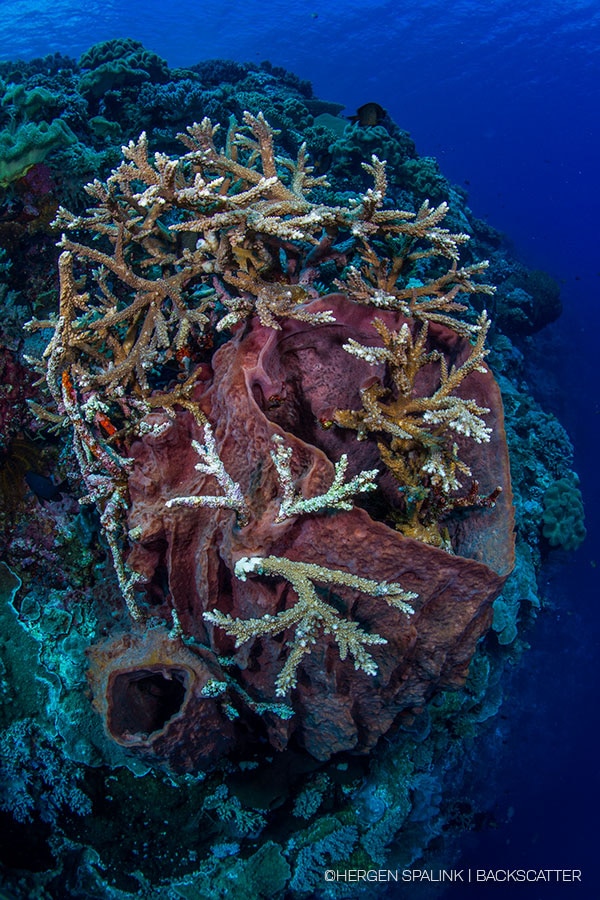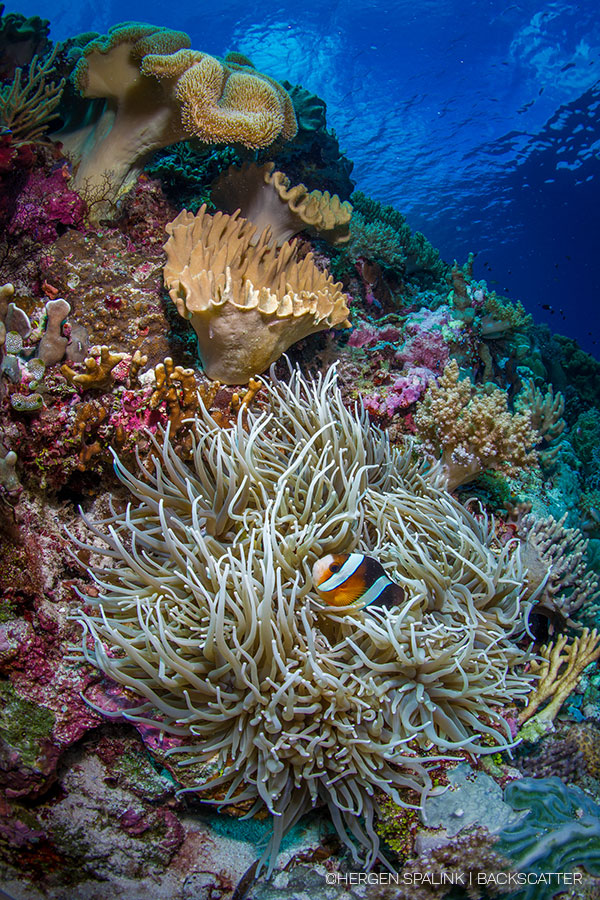 Gunung Api
As with Gili Manuk, Gunung Api is an active volcano that sits far from any other islands and is also home to a large population of curious sea snakes. The underwater slopes and walls are decorated with soft corals and large barrel sponges. The island is home to a variety of sea birds that often visit surfacing divers with a close pass. There are also a few hammerhead cleaning stations so it's always a good idea to keep one eye into the blue while cruising the reef.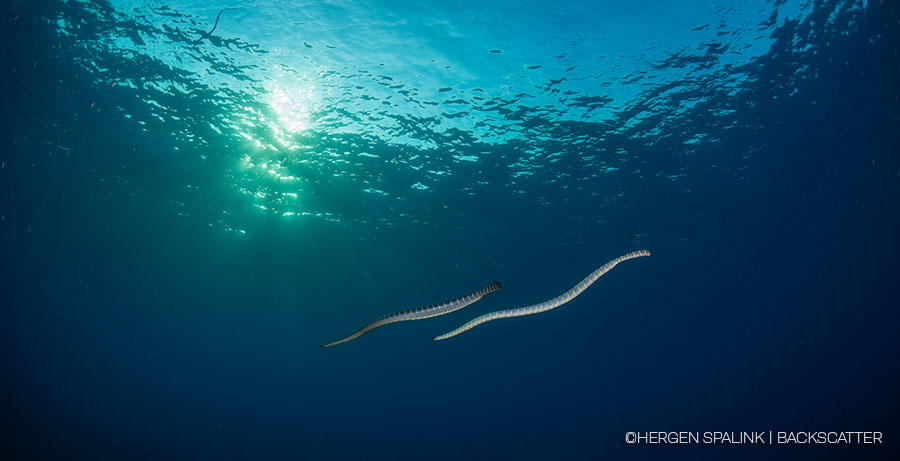 Lucipara
The flat-topped islands of Lucipara turn into steep underwater walls teeming with reef fish, beautiful hard corals, giant barrel sponges, and sometimes large pelagic fish such as dogtooth tuna. The clear blue water famous in the Banda Sea is a diver's dream, but other rare critters such as this pair of frogfish can be found on the walls.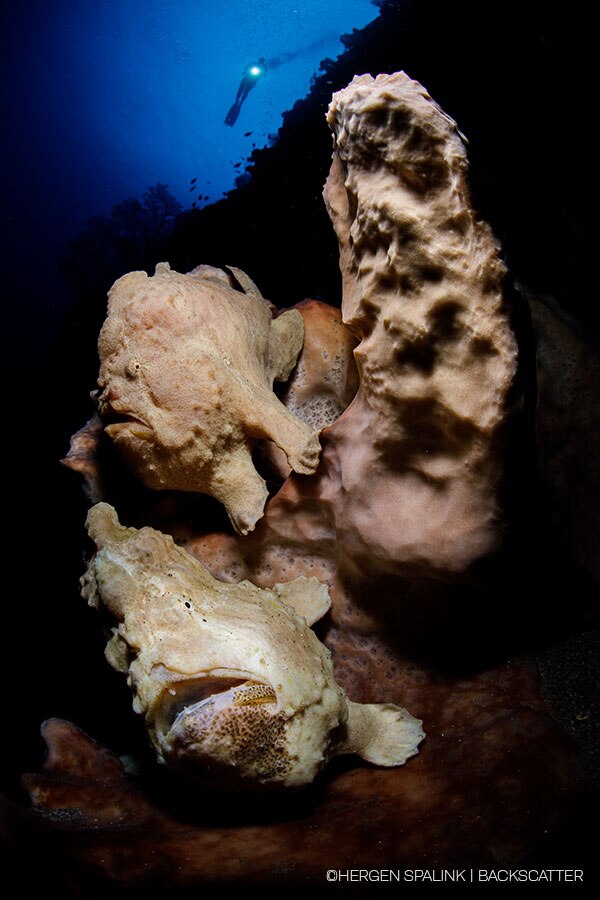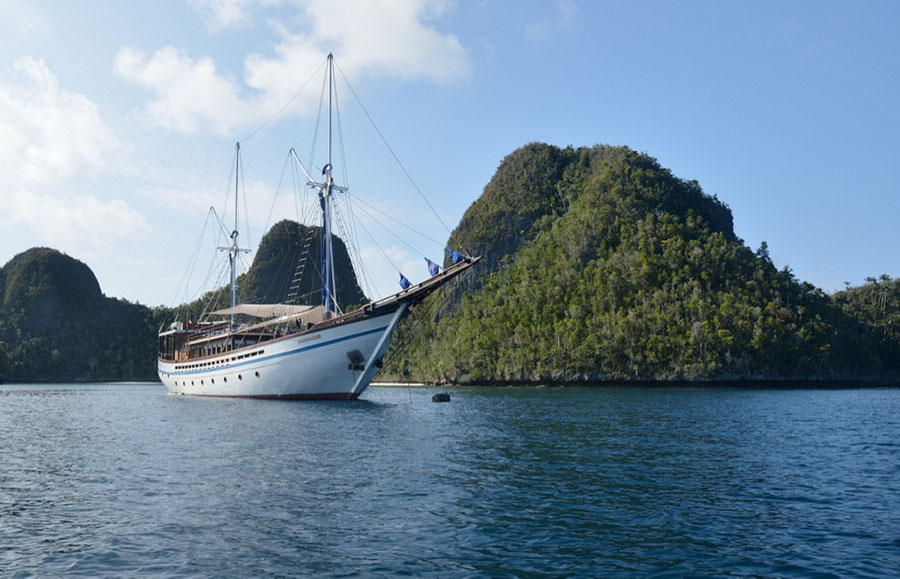 Samambaia
MV Samambaia is a brand new traditional wooden Phinisi schooner fitted with all the features of a modern diving boat. Catering to only 14 guests The Samambaia has 6 tastefully decorated cabins on the lower deck and a beautiful Master cabin on the main deck with stunning 180° sea views. Each cabin has a private en-suite bathroom, under-bed storage, wardrobes, and individually controlled AC. The 18 experienced, professional, and friendly crew are on hand to help to create an unforgettable journey. Guests are catered to with delicious international cuisine cooked fresh every day with locally sourced ingredients, and freshly prepared bread and pastries.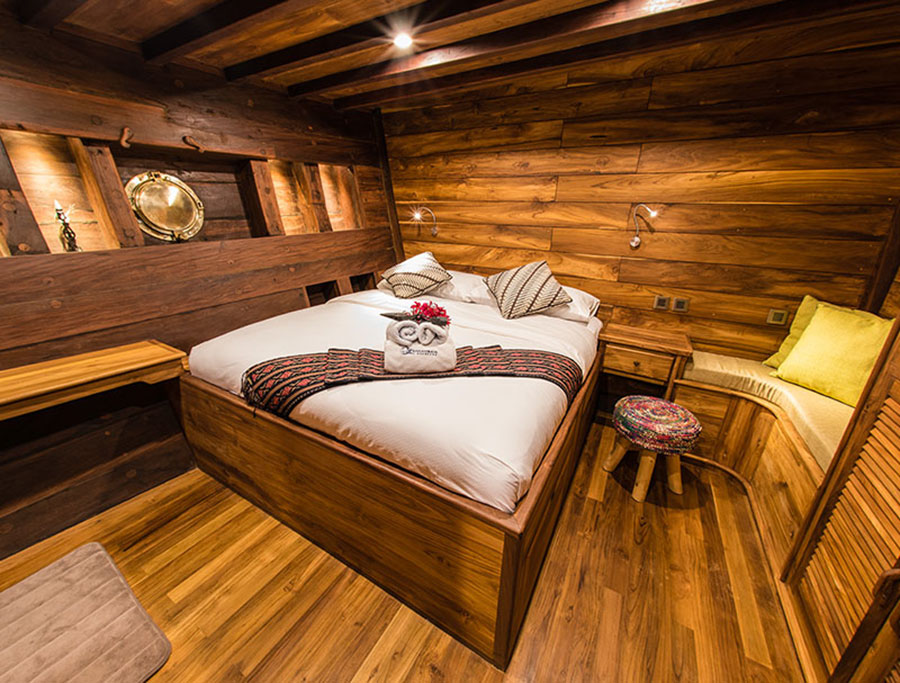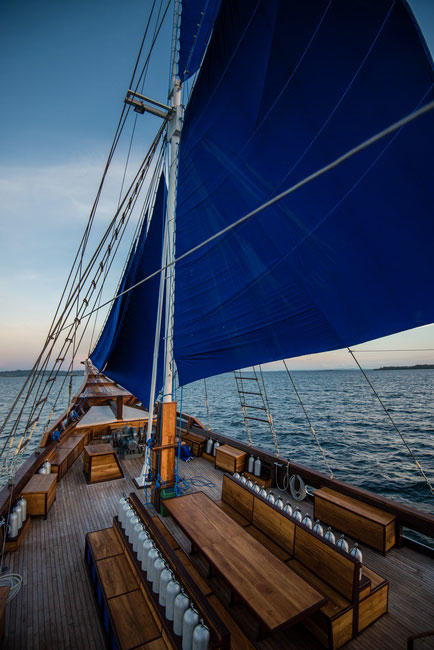 Package includes:
12 nights aboard Samambaia, twin shared cabin
11 dive days
All meals, soft drinks, and beer
Nitrox
Pricing:
$7,999 per person (double occupancy)
Additional costs:
International and domestic airfare
Accommodations before and after the cruise
Master Cabin Upgrade ($600 per person)
Wine and Spirits
Massage
Harbor & Park Fees ($400)
Rental Dive Gear
Trip Insurance
Travel info:
Trip 1:
Boarding: September 15, 2025 – Maumere
Returning: September 27, 2025 Ambon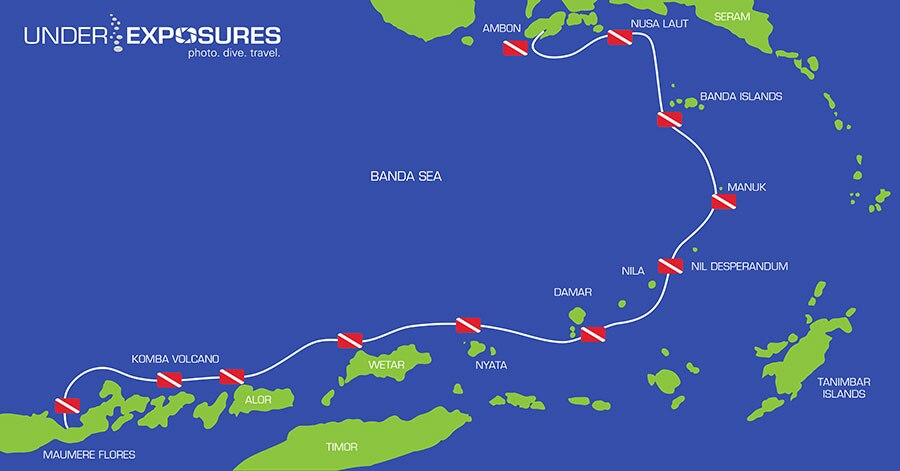 Trip 2:
Boarding: September 29, 2025 – Ambon
Returning: October 11, 2025 Ambon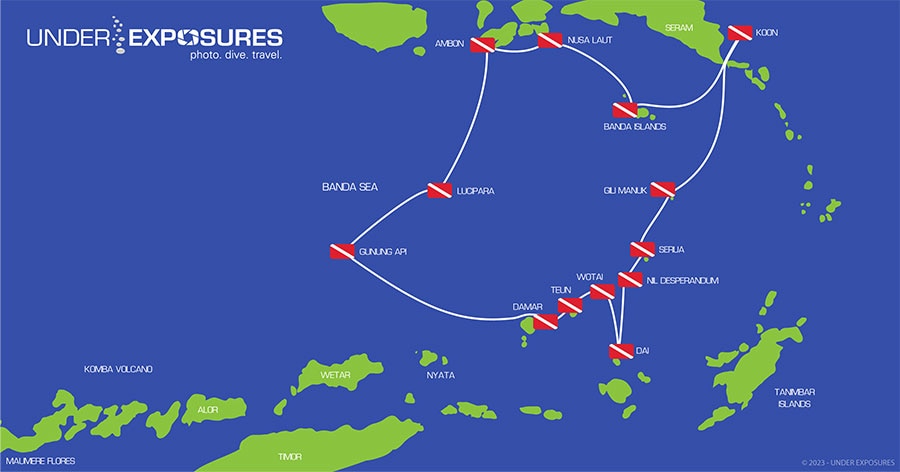 Getting there
For trip 1 we suggest you arrive in Bali (DPS) and for trip 2 we recommend you fly into Jakarta (CGK). We will arrange for airport pick-up and transfers to a nearby hotel. From there you'll take a domestic flight to meet the boat. After the trip, it's best to fly back to Jakarta but you can return to Bali if you prefer.
We are happy to assist you in booking your domestic flights and local accommodations.
Trip Extensions:
If you'd like to add on some more great diving before or after our trips we can easily link up the following destination.

Please note that
Divers Alert Network (DAN)
or equivalent evacuation insurance is mandatory on all trips. Additionally, comprehensive Cancellation, Accident, Medical and Baggage insurance such as
Dive Assure
,
Generali Global Assistance
or
Travel Guard
is highly recommended.
Berkley White
is the owner and founder of Backscatter Underwater Video & Photo. Berkley is one of the leading underwater imaging professionals, who's passion for underwater imaging is equaled by his passion for educating others. His images and articles are regularly seen in national and international scuba diving publications, and he leads several educational underwater imaging expeditions each year, such as The Digital Shootout. To view his online portfolio, please visit
berkleywhite.com.
Erin Quigley
is a Adobe ACE certified digital imaging consultant specializing in customized workflows and editing strategies using Adobe Photoshop and Lightroom. She is an award-winning underwater photographer and video editor, and creator of
GoAskErin.com,
which provides one-on-one instruction, custom video tutorials, and Photoshop and Lightroom resources specifically developed for underwater shooters.