Join Backscatter's CEO Jim Decker and Adobe Lightroom expert Erin Quigley on a unique photo expedition to the Socorro Islands aboard the luxury liveaboard dive boat Nautilus Explorer. Photograph Giant Pacific manta rays, numerous species of sharks, bottlenose dolphins, schooling jacks, and more. Jim and Erin will be on hand to assist with UW photo techniques, offer technical support, and teach post-production workflow in Adobe Lightroom. In addition to that, we are reducing the number of divers to get a smaller group feel and open up more single occupancy cabins.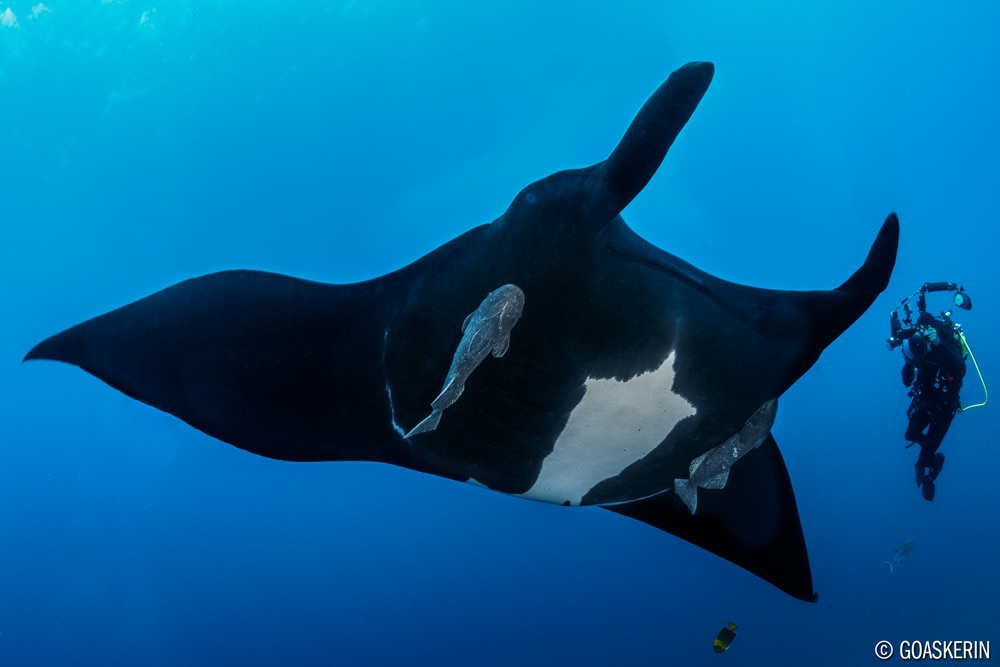 Socorro Islands
The Revillagigedos Archipelago, more commonly called Socorro Islands is located in the eastern Pacific Ocean approximately 250 miles south of Cabo San Lucas, Mexico – at the tip of the Baja peninsula. These islands have been compared to the Galapagos Islands in Ecuador or Cocos Island in Costa Rica because of the big animal encounters they provide. This area is famous for up close and personal encounters with Giant Pacific manta rays, which can grow to 22 feet from wingtip to wingtip.
You can see giant mantas in many places around the world. But nowhere else boasts a population of giant mantas that literally seek out interaction with divers and snorkelers. No other mantas in the world behave like this. We don't know why but we LOVE it!! And the mantas clearly love us back.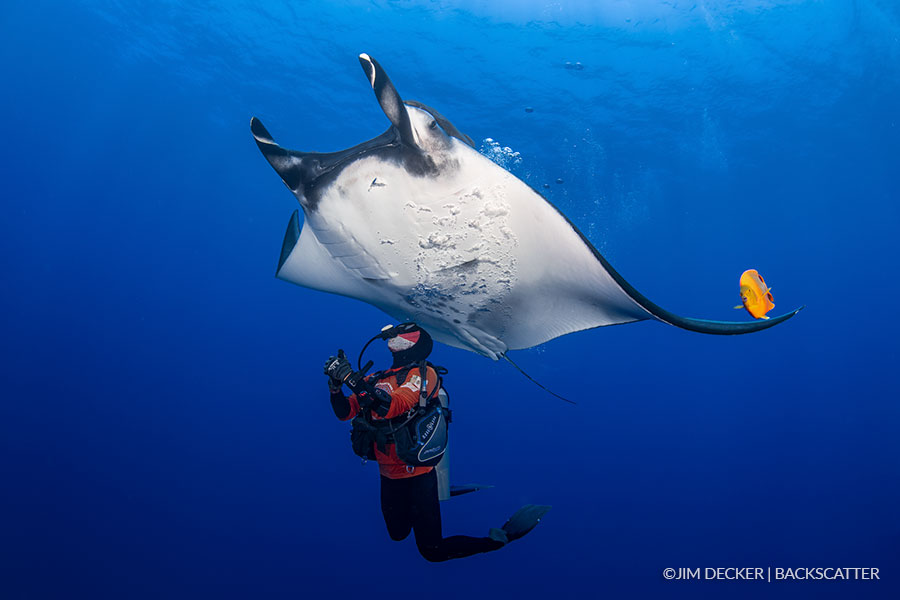 There are a lot of sharks in the Revillagigedos Islands – hammerhead schools, silkies, white tips, silver tips, threshers, Galapagos, and occasionally tigers. Divers have encountered up to 7 species of sharks in a single dive! There are several hammerhead cleaning stations visited each trip, weather permitting. April/May/June is a great time to see whale sharks as well!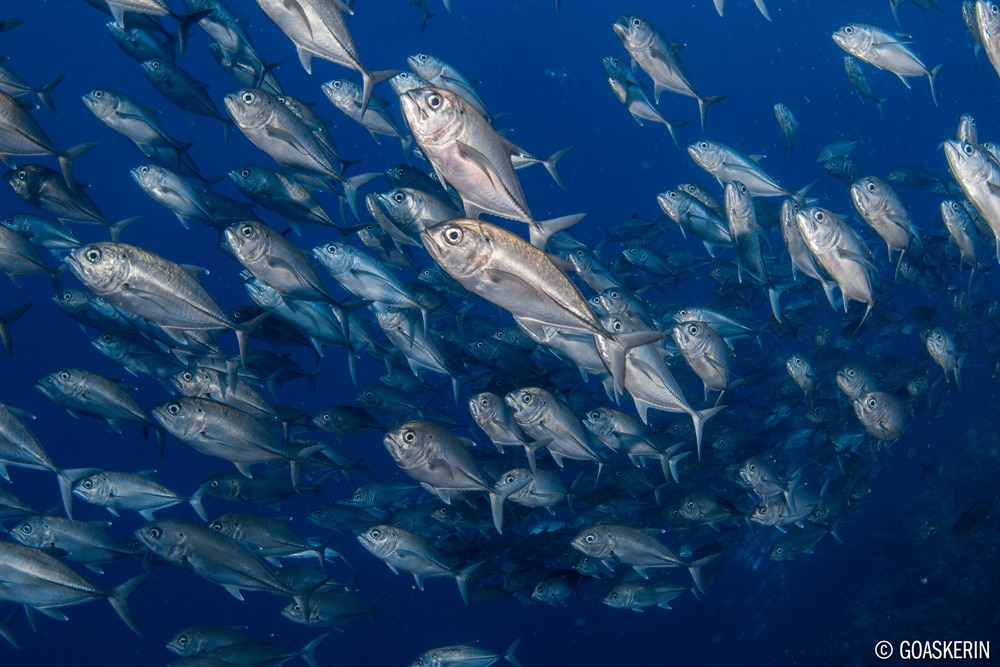 Add to the mix extremely playful dolphins on almost all trips, large tuna (the world record yellowfin is from these waters), wahoo, thick schools of jacks, and many other big critters along with endemic tropicals found nowhere else in the world, and you have some of the
BEST BIG ANIMAL DIVING ON EARTH!!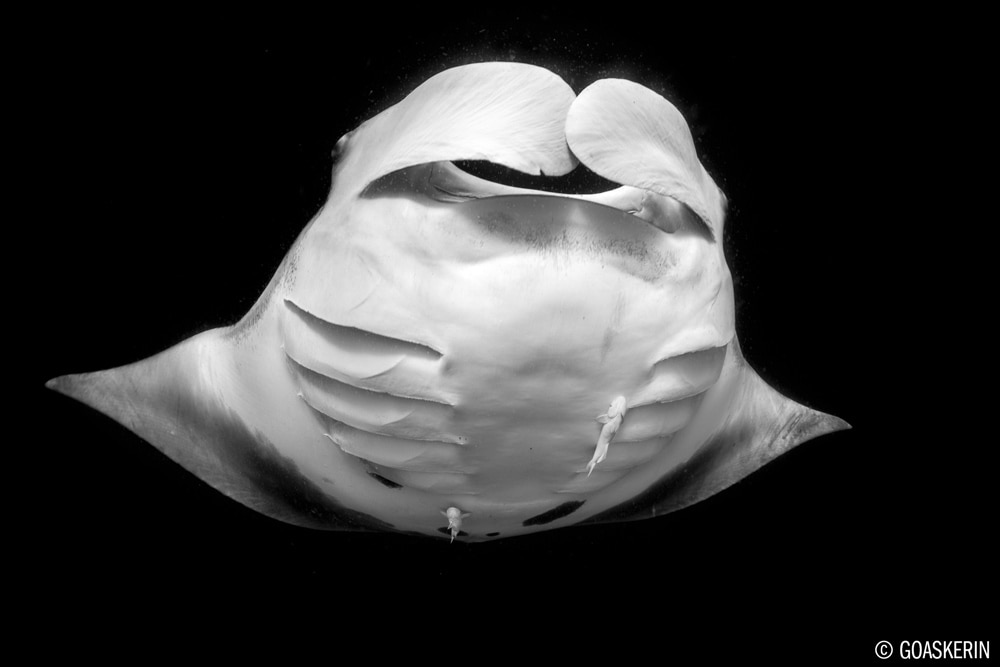 Nautilus Explorer
The 132-foot Nautilus Explorer is custom designed for divers to the highest possible level of comfort and safety. Expect spacious rooms and cabins, a convenient layout for diving, first-class facilities, top-notch dining services, and excellent dives throughout your trip. There is a large camera table on the dive deck.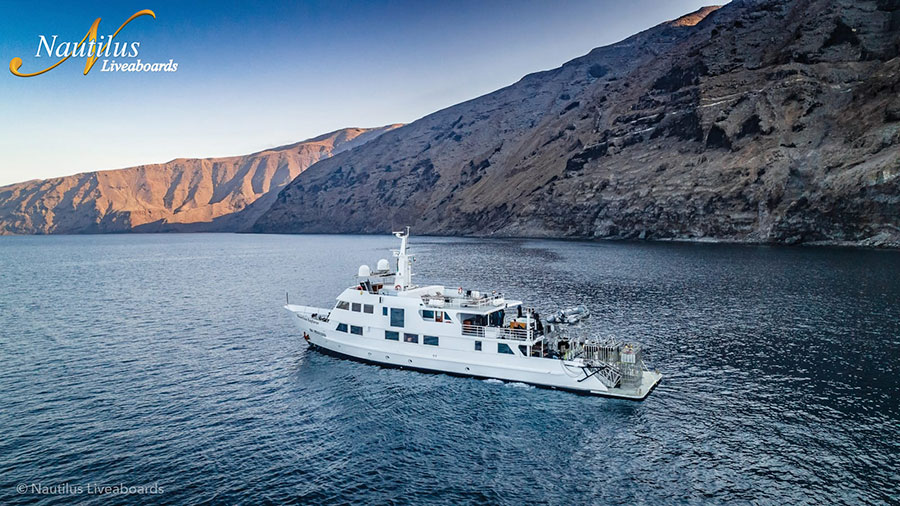 There are two upper-floors, a sun-deck, and a hot-tub deck where guests can relax with a glass of wine or frosty beer under the evening stars. The main salon is located in front of the dive deck and is fitted with comfortable couches surrounded by large picture windows, dedicated PC and Mac computers, and a 42-inch plasma TV. Mealtimes are taken very seriously by the Nautilus Explorer chefs, and everything is made fresh, including bread and pastries which are baked on board.
The boat normally holds 25 divers but we will only be booking 20 guests along with Jim & Erin.
There are nine lower deck staterooms. Each has private heads with separate shower stalls, central air conditioning, and measure 90 square feet. Six of the staterooms have side by side beds. Two have large double beds and an additional storage area and the one triple occupancy suite has a double bed with two single bunks facing.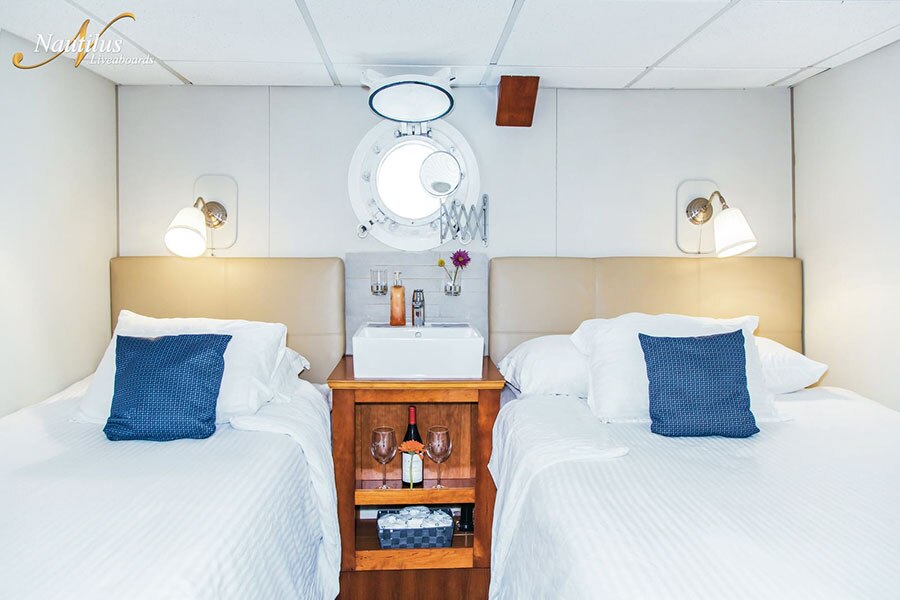 The three superior suites on the hot-tub deck measure 145 sq. ft and have large exterior windows. They each have private facilities, a desk, and either bureau or wardrobe. Two of these suites have doors that open directly outside.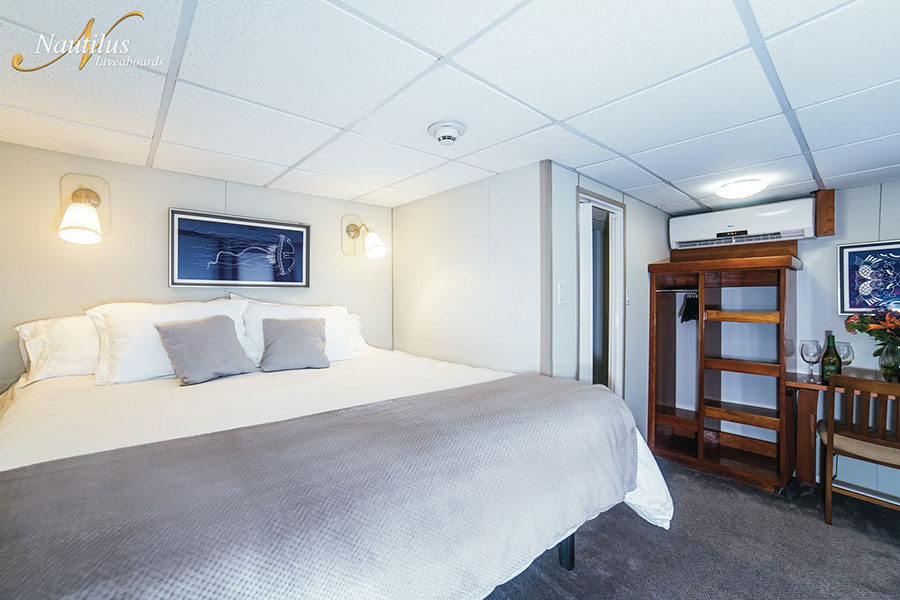 The premium suite is also located on the hot-tub deck and is twice the size of the other suites. It has a separate bedroom and lounge each with a large flat-screen TV and DVD player, private facilities with a full-size bathtub and shower plus large private windows looking out on an ocean view.

<
Standard Package Includes:
8 nights aboard the Nautilus Explorer, twin shared cabin
5 days of action-packed diving!
All meals and non-alcoholic drinks
Limited Load Trip!
Pricing:
$3,999 per person, double occupancy – Stateroom
$5,999 per person, single occupancy – Stateroom
$4,599 per person, double occupancy – Suite
$4,999 per person, double occupancy – Premium Suite
Additional costs:
Airfare to Cabo San Lucas Mexico (SJD)
Port Fee ($65)
Nitrox ($100)
Alcoholic drinks
Trip Insurance
Crew tip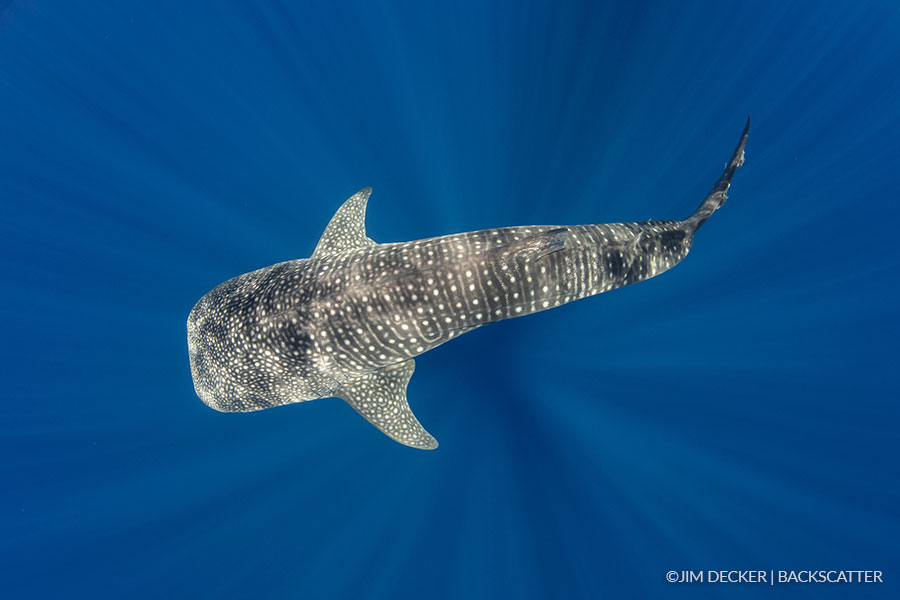 Getting there:
The boat is based in Cabo San Lucas Mexico (SJD) which is easy to get to via many major airlines. While it's possible to arrive in Cabo and head right to the boat, we suggest you arrive the day before departure. This allows time for any delays or missing baggage. After the trip, you can depart any time after 12 pm. We can assist you with transfers and accommodations.
Optional Free "Warm Up" Dive
We offer a complimentary warm-up dive for anyone heading out to Socorro – Arrive early and jump in the water and get your gear all dialed in before you board the boat! We also have a complimentary Backscatter Workshop available for all Socorro Divers. How to shoot sharks and manta rays! You need to sign up in advance so let us know if you want it.
SEE CREATURES
dive shop is located beside the main lobby of the Tesoro Hotel on the boardwalk in downtown Cabo San Lucas. This will be your home away from home before heading to your Socorro Liveaboard! Please drop by when you get into town and we will get you kitted up with whatever you need.
Travel info:
March 23 (or before): Arrive SJD, meet at See Creature Dive Center, optional checkout dive, board Nautilus Explorer at 8 pm
March 24-30: At sea
March 31: Disembark at 8:30 am, fly home at 12:00 or later.
Contact us for more travel details. We can assist in booking all flights, tours, transfers, and accommodations in Cabo before and after the cruise.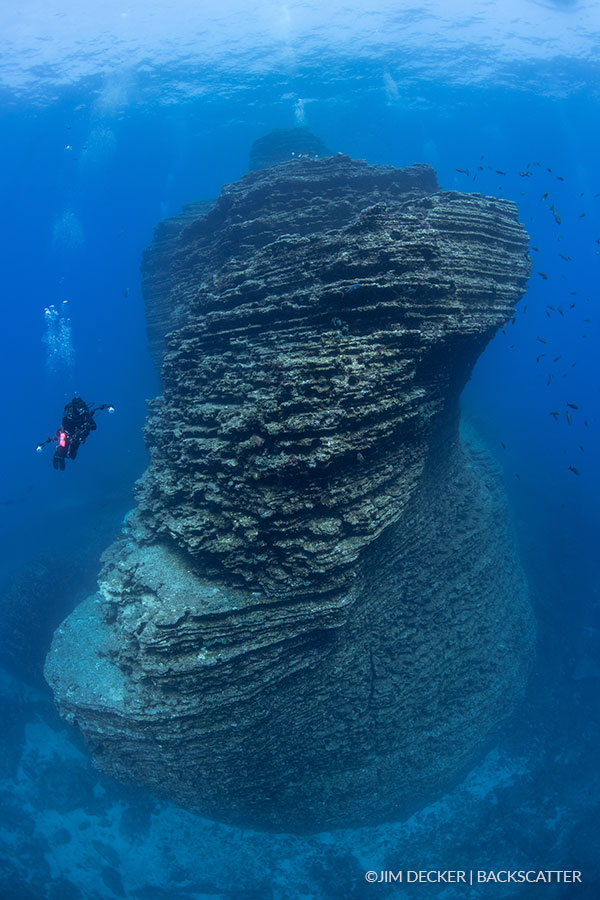 Please note that
Divers Alert Network (DAN)
or equivalent evacuation insurance is mandatory on all trips. Additionally, comprehensive Cancellation, Accident, Medical and Baggage insurance such as
Dive Assure
,
Generali Global Assistance
or
Travel Guard
is highly recommended.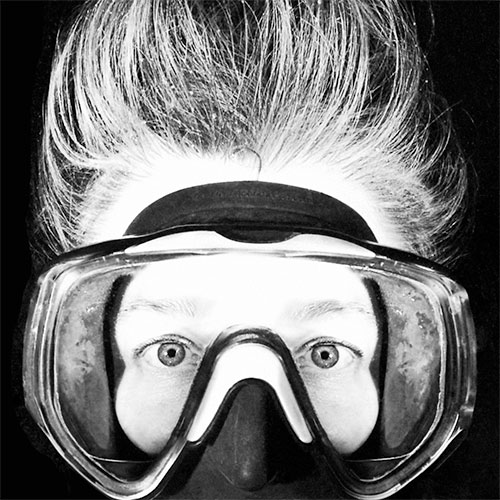 Erin Quigley
is a Adobe ACE certified digital imaging consultant specializing in customized workflows and editing strategies using Adobe Photoshop and Lightroom. She is an award-winning underwater photographer and video editor, and creator of
GoAskErin.com,
which provides one-on-one instruction, custom video tutorials, and Photoshop and Lightroom resources specifically developed for underwater shooters.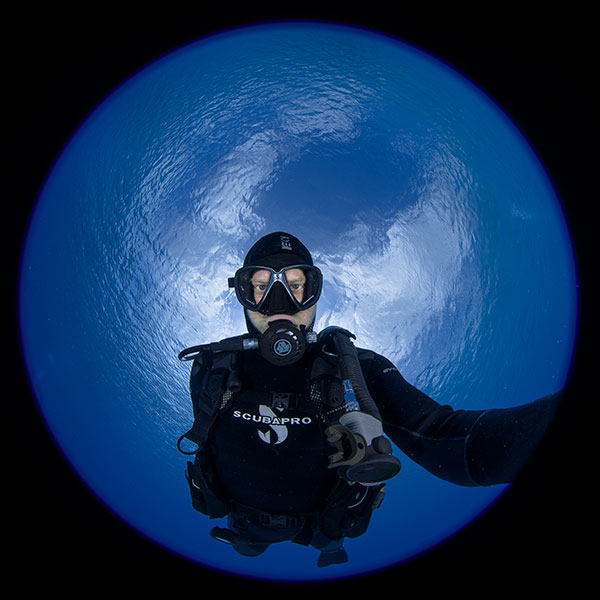 Jim Decker As the CEO of Backscatter, Jim is one of the top experts in the world on underwater photo and video equipment and shooting technique. From SLRs to compacts and handycams to broadcast video, Jim has shot video and photo systems from all the major underwater manufacturers and has been a consultant on many of the designs seen in the water today.