Imagine coming face to face with California sea lion pups, whale sharks, and mobula rays all in the matter of one week! Now imagine, camping under the stars and exploring one of the Baja Peninsula's most treasured natural wonders. The Sea of Cortez is a playground for ocean enthusiasts. Here you can find abundant wildlife, and turquoise bays surrounded by spectacular, terra cotta colored mountain ranges. On your way to and from dive sites, pods of dolphins, and whales glide by in search of food – while mobulas can be spotted hurling themselves out of the sea and into the air. And seabirds patrol the air. This is the ocean lover's realm.
EPIC MARINE LIFE WITH A TOES IN THE SAND VIBE
This is not your typical Backscatter photo expedition. Our new "Backpacker Series" of trips are professionally crafted to focus more on the adventure and less on dive, shoot, eat, repeat. We're basically getting back to our roots when we considered meeting the locals and exploring land equally important to a well-appointed underwater camera room or finding the next underwater critter. Our best images have come from spontaneous adventures like these. Some of the best moments in our lives occurred when we put the camera down and just experienced a new adventure. If this speaks to you… this is the trip for you.
CAMP OUT UNDER THE STARS
We will spend two nights camping alongside a picturesque, turquoise bay on Espiritu Santo Island. Far away from the lights of La Paz, you'll have the opportunity to get lost in the beauty of a brilliant night sky in this National Reserve. Thousands of stars hover above your tent as you fall asleep to the sound of small waves breaking on the shore.

Here you can kayak, paddleboard and snorkel across the crystal clear bay or trek through the rugged desert terrain behind the campsite. Each night we will head out into the bay in search of mobula rays as they feed on plankton. At the end of the day, as you gaze up at the stars and reflect on the amazing encounters, don't be surprised if the resident wild hare "Pancho" makes an appearance!
The campsite is a short boat ride from the sea lion colony at Los Islotes and is really ideal for aerial, astro, and landscape photographers. If you can find a stingray or other cooperative subject it can also be really nice for over-under images.
LOS ISLOTES SEA LIONS
The inquisitive colony of California sea lions (
Zalophus californianus
) that call Los Islotes home are in fact the southernmost breeding colony in the Gulf of California, also known as the Sea of Cortez. With very few natural predators, the colony has a robust population of roughly five hundred individuals. They can be spotted basking on rocky ledges in the sun, whizzing through underwater caves and archways, or entertaining visitors with their jovial personalities.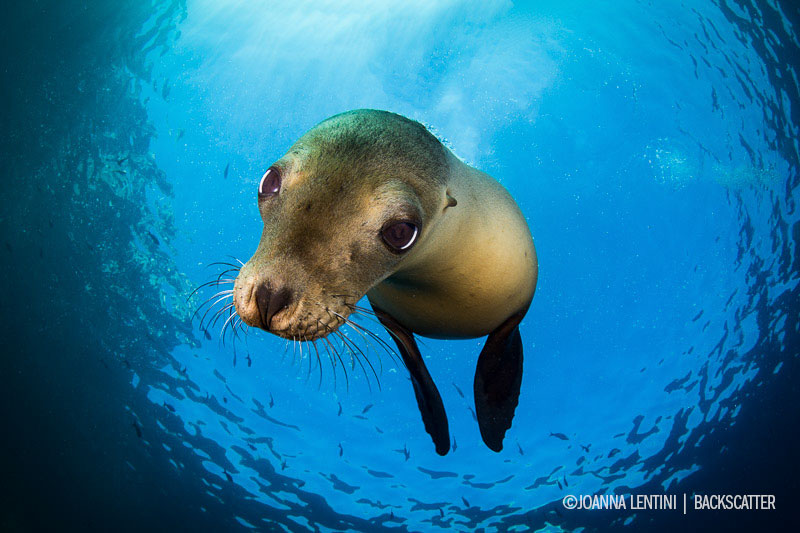 Whether it's a slight tug on a fin, a gentle nudge on the shoulder or a torpedo-like flyby, the cheeky sea lions of Los Islotes, Mexico will forever ingrain themselves in the intrepid hearts and minds of visitors. Situated on a rocky outcrop in the Sea of Cortez, this boisterous, resident sea lion colony is frequented year-round by snorkelers, freedivers, and scuba divers—and it's an epic bucket list experience you'll want to repeat again and again.
Nothing can quite compare to the sheer joy one will experience through interactions with these aquatic comedians. Large, puppy dog eyes, an insatiable curiosity, and their uninhibited nature immediately enchant visitors. While some encounters may be brief and result in large gulps of seawater from uncontrollable laughter, others may last much longer and require a lasso to bring your buddy back to the boat.
WHALE SHARKS AND NIGHT MOBULA RAYS
The Sea of Cortez is home to an incredible variety of marine creatures, one of the most impressive of those being the whale shark. As the largest fish in the sea, whale sharks can exceed 40ft in length and weigh more than 40,000lbs. October to March is whale shark season in La Paz, and we will be sure to spend some time with them during this trip. We cannot dive with them, so interactions will be limited to surface interactions on snorkel. Considering they will be feeding in the top few feet of water, this is actually the best opportunity to swim with them. When actively feeding, they will be hanging vertically in the water column, gulping in thousands of gallons of water that will be filtered over their gills to extract plankton and small fish. Most of the whale sharks we see will be juveniles that range in length from 10 to 25 feet. Even the small ones will dwarf us, but despite their size, they are surprisingly gentle and spatially aware.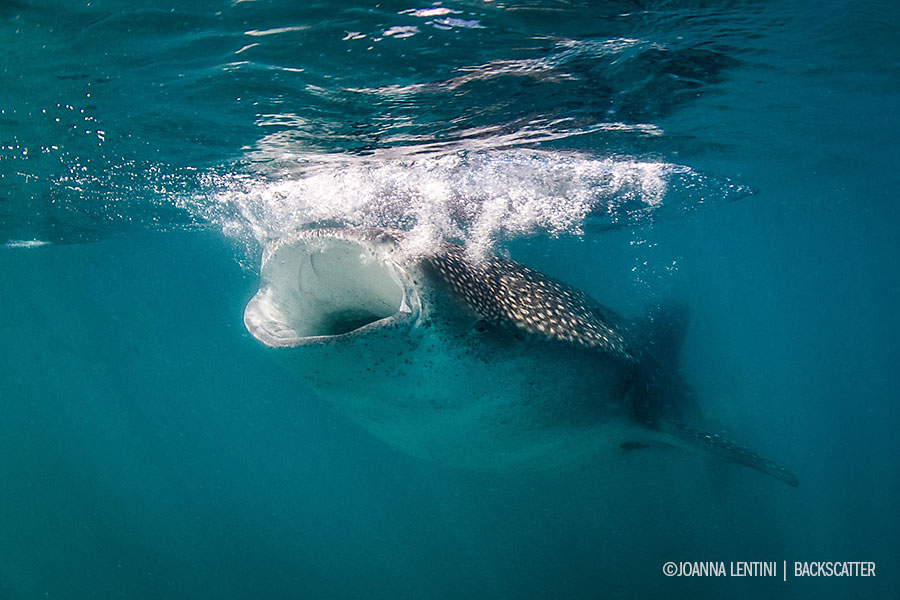 Whale shark snorkeling is a daytime activity, while prime mobula interactions occur at night. While we might see breaching mobula rays during the day, we will be diving with them long after the sun has set. After a nice dinner on the beach and a bit of time to relax, we'll head back to the boat and drop a light into the water. Almost immediately, plankton begins to swarm around the boat. Since we'll be there during the new moon phase, there is no bright moonlight in the sky to detract from the intensity of our beacon. As the plankton becomes a dense aggregation, the rays begin to show up for the feast. We will descend into the sand in less than 20ft of water and line up in a semi-circle around the light to watch and record this spectacle. This mobula feeding frenzy can also be enjoyed from the surface as a snorkeler or even from the boat while watching the action from above. We will return to the beach after about 1-1.5 hours of watching this intense feeding activity in the water and end the evening by basking in the faint glow of our beautiful Milky Way streaking across the night sky before heading to bed to get some rest for the next day's adventures.
A MAXIMUM OF 14 GUESTS
Dates: October 26th – November 2nd, 2019
Duration: 7 nights/8 days
Destination: La Paz, Mexico
Cost: $2,500 USD (per person, double occupancy)
Deposit: $500 USD, Final payment due 90 days prior to trip
Getting there: Fly into either La Paz via Mexico City or fly into Cabo San Lucas and transfer by air-conditioned shuttle with wifi to La Paz – about 2 hours.
Operator: Fun Baja/Cortez Expeditions
Activities: Two nights camping at Isla Espiritu National Reserve, swimming with whale sharks, night dives/snorkels with mobulas, diving/snorkeling with California sea lions at Los Islotes, and many photography opportunities.
Included: Five nights accommodations at Seven Crown La Paz Centro Hotel, two nights accommodations and all meals at the campsite, boat charter, park fees, guides, tanks and weights provided, all diving/snorkeling, and daily transfers between hotel and marina, photography talks.
Not Included: Tips, alcohol, dive/snorkel equipment rental
ITINERARY:
Day One —
If you are flying into Cabo San Lucas' SJD airport, you'll want to reserve a seat on the shuttle bus ecobajatours.com. The rates are very reasonable and the shuttle bus picks you up just outside the airport exit and whisks you away to La Paz. It's a very scenic two-hour drive with a stop along the way. Once everyone has arrived at the Seven Crown Hotel we will connect in the hotel lobby to discuss all of the excellent dining options within minutes of the hotel, and the exciting itinerary for the week ahead.
Day Two —
Today we set sail for our first encounters with the boisterous sea lion colony at Los Islotes. Here we will swim, snorkel, or dive around the rocky outcrop and come face to face with these adorable "puppies of the sea." No worries about food, lunch will be provided each day on the boat.
On our way back to La Paz we cruise past the stunning terra-cotta stained terrain of the National Park as we make our way back into the bay to investigate the whale shark scene. The crew will do their best to get us as close as possible to the whale sharks but they do move fast so be prepared to swim!
Day Three —
Depending on the weather we will either stay in La Paz Bay and hang out with the insatiable whale sharks as they feed on plankton, or head over to Los Islotes to explore the other side of the island. There are so many nooks and crannies to explore the island that locals are still discovering new spots. Be sure to bring your reef-safe sunscreen as the sun is always shining in La Paz!
Day Four —
It's time for a serious break as we head off the grid to go camping in the desert. For the next 48 hours, we will disconnect from the world, and relish in life's simple pleasures. As the sea lion colony is a short jaunt from the camp, we will put the whale shark encounters on hold and focus on getting more intimate with the sea lion pups.
We'll have a midday break at the camp where we can soak up the sun, paddle board, swim, or read a book under an umbrella. After lunch, we head back out to the sea lion colony as we wait for nightfall.
After dinner, we gear up and quietly make our way out into the shallow, sandy bay. Lighting up the sea floor, we wait patiently for the mobula rays to grace us with their presence. It's definitely a waiting game but once they arrive all havoc breaks loose. We descend to the sandy seafloor and position ourselves just on the rim of the light as the rays sweep in and out of the light as they feast on plankton. It's a magical scene as we witness the rays gliding through the water like a flock of bats in the night sky.
Day Five —
Today will be a repeat of the activities from the day before. But perhaps you'll find yourself preferring a little terra firma for a change? A peaceful hike through the cacti forest behind the camp or some astrophotography in the evening might be in order. And be sure not to leave the camp without catching a glimpse of the resident hare they've named Pancho!
Day Six —
Check out of the campground and make our way back to La Paz. Along the way, we may encounter dolphins, whales, or rays so have your fins/cameras ready to go! Depending on everyone's eagerness for a proper shower, we may also stop by to say hello to the whale sharks.
Day Seven —
One last farewell to the resident California sea lions and whale sharks as we wind down the week, let our gear dry and explore the Malecon for our last night in La Paz.
Day Eight —
Time to say our goodbyes, as we check out of the hotel and head back to the airport via shuttle bus (ecobajatours.com). But we take with us some of the most magical encounters on offer around the Baja peninsula, and perhaps the world.
Please note:
The campsite is situated on a picturesque, turquoise bay and has solar powered electricity, running showers, and flushing toilets. And while it is the ideal time of the year for marine life encounters in this region the only guarantee we can provide is for the sea lion encounters – as they are permanent residents – however, it is highly likely we will see the others mentioned above. The itinerary is subject to shift depending on the weather.
Please note that
Divers Alert Network (DAN)
or equivalent evacuation insurance is mandatory on all trips. Additionally, comprehensive Cancellation, Accident, Medical and Baggage insurance such as
Dive Assure
,
Generali Global Assistance
or
Travel Guard
is highly recommended.
MEET YOUR TRIP LEADERS
We'd like to introduce you to our new Backpacker Series trip leaders. Joanna and Alex pioneered this trip itinerary last year with great success and have streamlined the schedule for more fun and even better photo options. As professional grade photographers, they will help guide the group to maximize photo options during the adventure while keeping the spirit focused on the experience.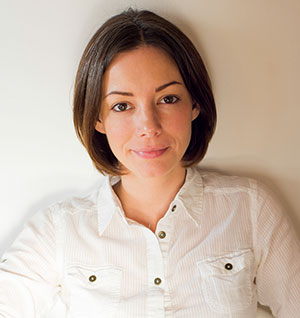 Joanna Lentini is an award-winning photographer and writer based in the greater New York City area. Joanna's passion for the natural world and photography ignited from an early age and has led her to explore diverse environments around the planet—from the Arctic to the Coral Triangle. Wildlife remains Joanna's deepest passion, and her work both topside and underwater has taken her face to face with some of the planet's most incredible creatures, ranging from sharks and crocodiles to polar bears and snow monkeys. Through her imagery she hopes to inspire a greater appreciation for the planet and its last wild places.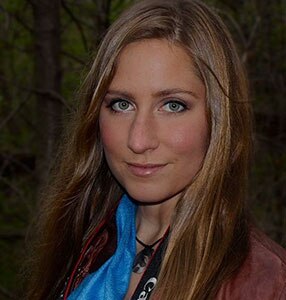 Alex Rose holds a B.S. in Biology, an M.S. in Aquatic Biology, and has a wide variety of experience in the biological sciences including but not limited to bioacoustics research, exhibit construction, science writing, teaching, public presentation, and aquatic animal husbandry and breeding. Alex is also a professional violinist, photographer, Explorers Club Fellow, PADI Divemaster, and lover of all things aquatic. She is currently the Science Editor and a principle writer for Ocean Geographic Magazine, the Managing Editor for Ocean Geographic Explorers (OGX) and is a free-lance science writer and editor as well. Alex also composes violin pieces for use in ocean-themed films and exhibitions. Her driving goal is to find ways to protect our world's precious marine habitats through diving, writing, photography, education, and research. She founded Blue Ring at the beginning of 2017 in an effort to create a new method of ocean conservation accessible to and inclusive of everyone who wants to better understand and protect our seas.