Feb 4-18, 2023 Sorong to Kaimana
Join Jim Decker and Erin Quigley on a special trip to Raja Ampat and Triton Bay on board the luxury live-aboard boat Dive Damai II. This trip will cover a large area offering a stunning variety of dive sites with amazing wide angle and macro photo opportunities.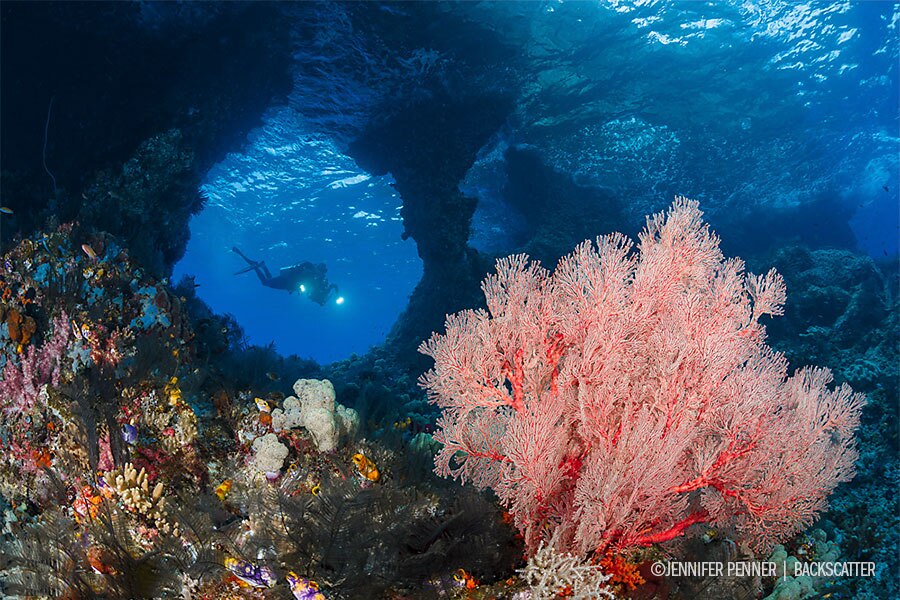 Departing from Sorong, the Damai II will first visit the eastern end of the Dampier Straits. We will spend the following day here diving iconic sites like Cape Kri, Blue Magic and Sardine Reef enjoying the schooling fish, cruising sharks, and rays. Mioskon is a great spot for the endemic Wobbegong shark and Pontohi pygmy seahorses. At the western end of the Dampier Straits, you can see Manta cleaning stations, explore under the jetty at Arborek and dive the pinnacles at Gam.
Trip itinerary: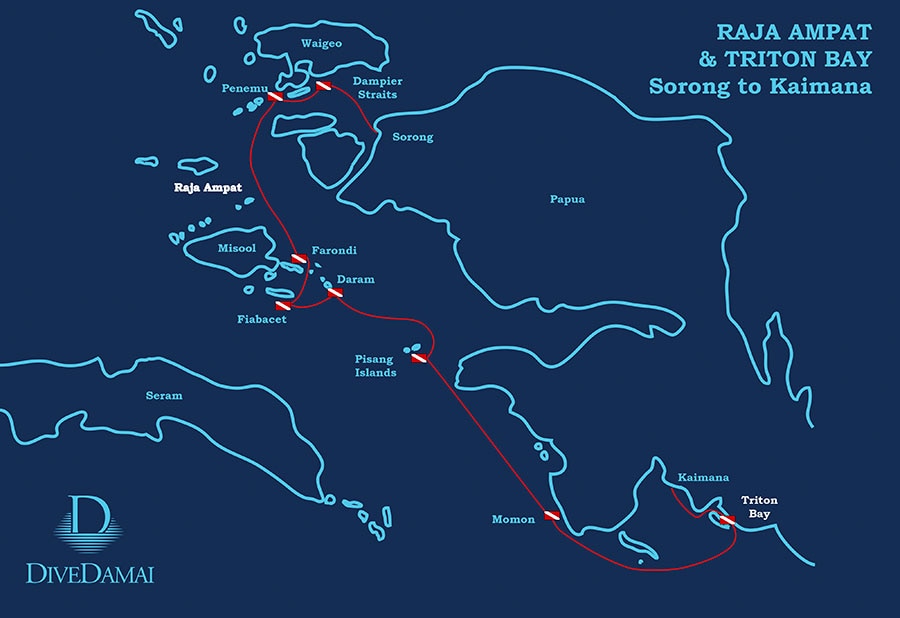 We will head west to Penemu to dive Barracuda Point; a seamount on the north point; Melissa's Garden; a beautiful hard coral plateau and Keruo Channel; drift along this colorful slope watching the seascape go by. A highlight of Penemu is a lagoon tour in the tender boats amongst these turquoise waters and limestone bays. For the energetic, there is a short walk to the top of one the hills to be rewarded with an amazing view over the lagoon with Damai II moored in the distance.
Moving south to the colorful soft coral-covered reefs around the island of Misool, we will visit Farondi, Boo, and Fiabacet. This amazing string of small islands has a colorful array of great dives sites like Boo Windows, Nudi Rock, Tank Rock, and Whale Rock. The whole place is a delight for the eyes. On a calm day, you can visit the amazing seamount Magic Mountain and experience cruising sharks, schooling fish, and mantas cleaning. A truly spectacular dive!
We leave the wonders of Raja Ampat and head south along the coast of Papua to Pulau Pisang for a day of diving including a seamount and a great macro dive amongst boulders.
The next stop south is Momon where we will dive a seamount before taking a dip in a freshwater waterfall that runs right into the sea! There will be a channel dive followed by a macro dive at the beautiful bay of Tanjung Wap.
From here we head into Triton Bay stopping at the fishing bagans in the hope of seeing some whale sharks.
The unique location of Triton Bay with its current rich straits has many beautiful dive sites located around the islands of Aiduma and Namatote. Triton Bay is famous for its kaleidoscope of colors along the reef at Signature sites like Little Komodo.
There is the opportunity to see endemic species like the Flasher Wrasse at Flasher Beach or Leopard Anemone Shrimp at Namatote Wall or a Thin Line Wobbegong hiding under a table coral.
We'll enjoy a great swim through under the island at another soft coral covered signature site, Bo's Rainbow. For schooling fish action and more colorful reefs, we'll check out Larry's Dive Heaven on the outside of Aiduma island.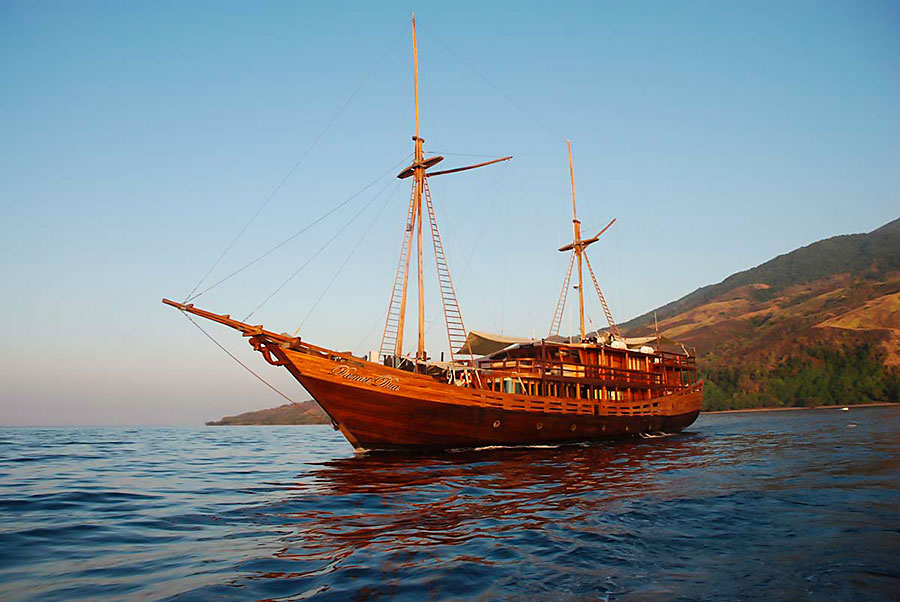 Dive Damai II
This beautifully designed wooden boat has been designed to offer a personal luxury service, that only a vessel of this size, that is dedicated to small groups can provide. With an overall length of 40 meters (130 feet) and a beam of over 9 meters (29 feet), the vessel has 7 staterooms with a choice of single cabins, twins, doubles or two spacious master cabins with private balconies. All cabins are furnished with queen or king sized beds and ensuite heads. There is a spacious indoors camera room like found in a resort.
Getting there
We suggest you arrive in Jakarta (CGK) at least one day before boarding the boat. We will arrange for airport pick up and transfers to a nearby hotel. From there you'll take a domestic flight to meet the boat in Sorong. After the trip, you'll fly back to Jakarta. We suggest another overnight there before flying home the next day. Travel via Bali is also possible but will require more time to Sorong.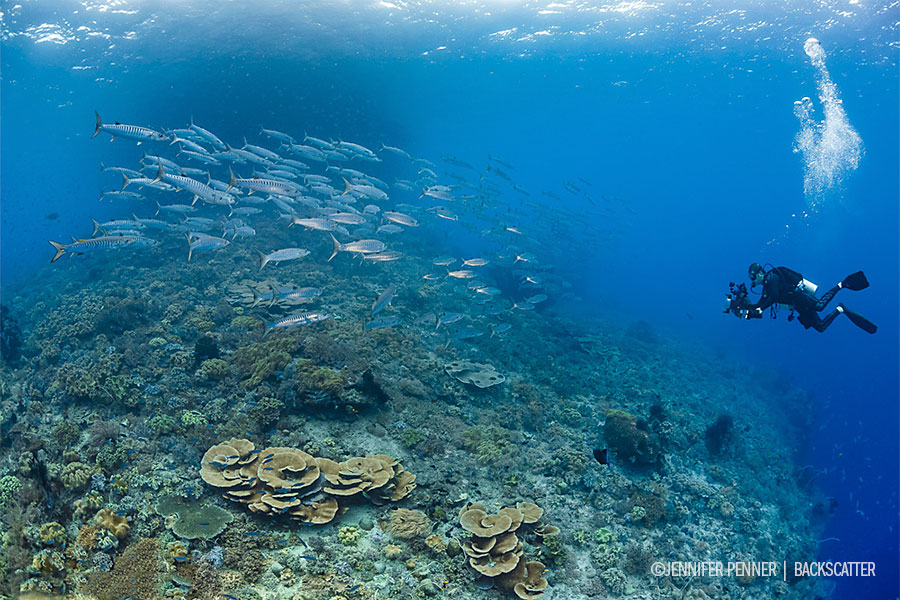 Damai All Inclusive Package:
14 nights aboard Dive Damai II, twin shared cabin
13 dive days
All meals and soft drinks, beer, 1 glass of wine each night
Harbor Fees
Nitrox
Rental Dive Gear
Massage
Laundry
Pricing:
$9,968 per person (double occupancy)
Additional costs:
International and domestic airfare to Sorong / Kaimana, Indonesia
Accommodations before and after the cruise
Master Cabin Upgrades ($600 per person)
Wine and Spirits
Additional Purchases
Park Fees
Trip Insurance
Travel info:
Boarding: February 4 , 2023 – Sorong
Disembark: February 18, 2023 – Kaimana
We are happy to assist you in booking your flights and local accommodations.
Divers Alert Network (DAN)
or equivalent evacuation insurance is MANDATORY on all trips. Comprehensive Cancellation, Accident, Medical and Baggage insurance such as
Dive Assure
,
CSA Travel Protection
, or
Travel Guard
is HIGHLY RECOMMENDED.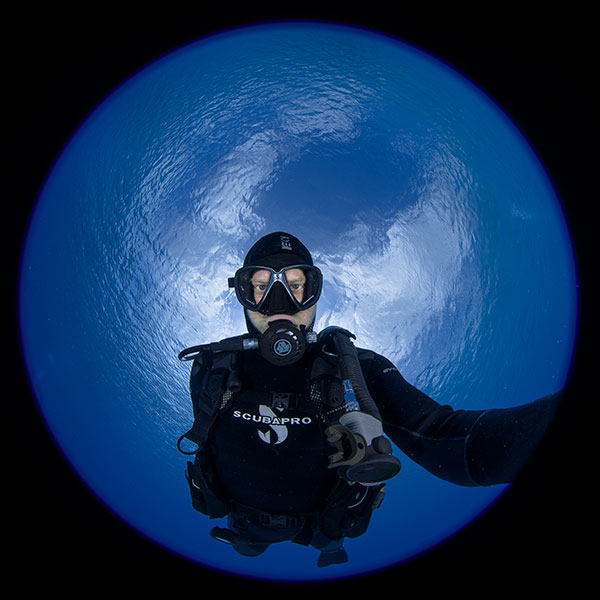 Jim Decker As the CEO of Backscatter, Jim is one of the top experts in the world on underwater photo and video equipment and shooting technique. From SLRs to compacts and handycams to broadcast video, Jim has shot video and photo systems from all the major underwater manufacturers and has been a consultant on many of the designs seen in the water today.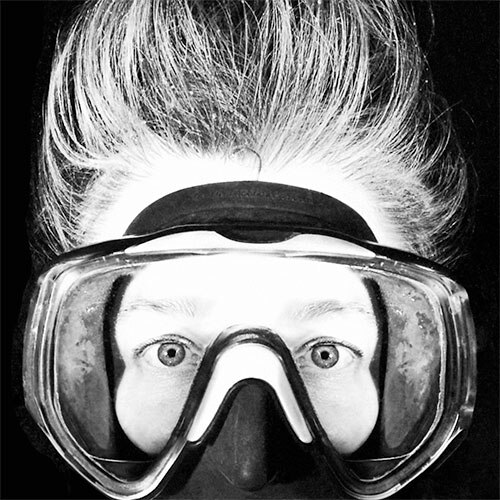 Erin Quigley
is an Adobe ACE certified digital imaging consultant specializing in customized workflows and editing strategies using Adobe Photoshop and Lightroom. She is an award-winning underwater photographer and video editor, and creator of GoAskErin.com, which provides one-on-one instruction, custom video tutorials, and Photoshop and Lightroom resources specifically developed for underwater shooters.