San Ignacio Lagoon & Mechudo Corridor Baja Mexico
Every winter the gentle giants of Baja return to the Sea of Cortez and San Ignacio Lagoon to breed, birth, and ready their calves for migration to summer feeding grounds.
In this 2-part adventure, we combine the friendly gray whales of San Ignacio Lagoon with the blue whales, humpbacks, and giant fin whales of Loreto in the Sea of Cortez. We may also encounter huge pods of dolphins, whale sharks, and if we are lucky, orcas and sperm whales. This is truly an adventure-filled trip!
Baja Ultimate Whales – Blue Whales, Gray Whales & Much More!
Getting closer to a gray whale than you ever imagined
Imagine a 49-foot long gray whale, no more than an arm's length away, raising its great head from the water to look you directly in the eye. A mother whale approaches and gently nudges her newborn calf towards your boat, presenting him to be admired. There is a remote lagoon in Baja California where these dreamlike encounters are a reality, and a visit there will touch your soul. At Camp Tio Timo, with Nautilus and Baja Expeditions, we invite you to share in this unforgettable experience.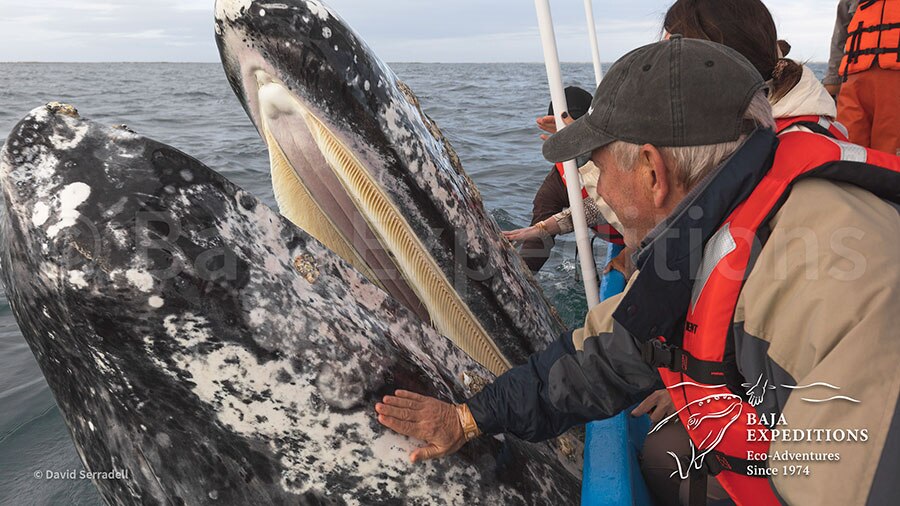 Loreto & Mechudo Corridor Blue & Fin Whales aboard the Nautilus Galant Lady
Enjoy unique whale watching and exploration opportunities aboard the Nautilus Galant Lady from Loreto south through the Mechudo Corridor towards La Paz. Blue and fin whales are not just around Loreto but all the way south to Bahia de La Paz and Punta Mechudo. As well as humpbacks and mega pods of dolphins, we will be searching for orcas and sperm whales.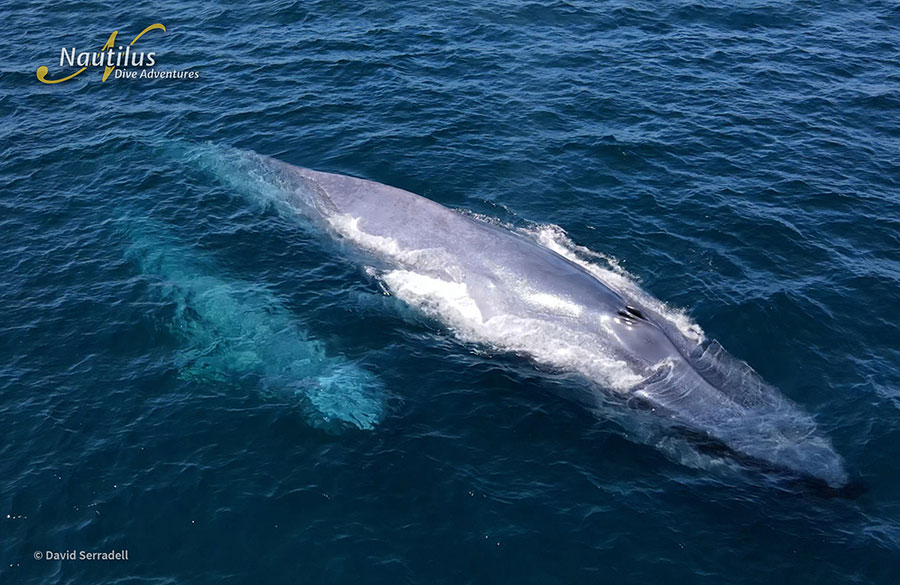 Plus, enjoy mangrove exploration, snorkeling, and watching sea lions at Los Islotes, Espirito Santo Island UNESCO world heritage site, beach walks, hikes, kayaking, and, weather permitting, snorkeling with whale sharks.
New to our 2023 Baja Ultimate Whale trips, we are including our new spotter airplane! We will have a pilot and naturalist on board guiding our boats to all of the action in the Mechudo Corridor.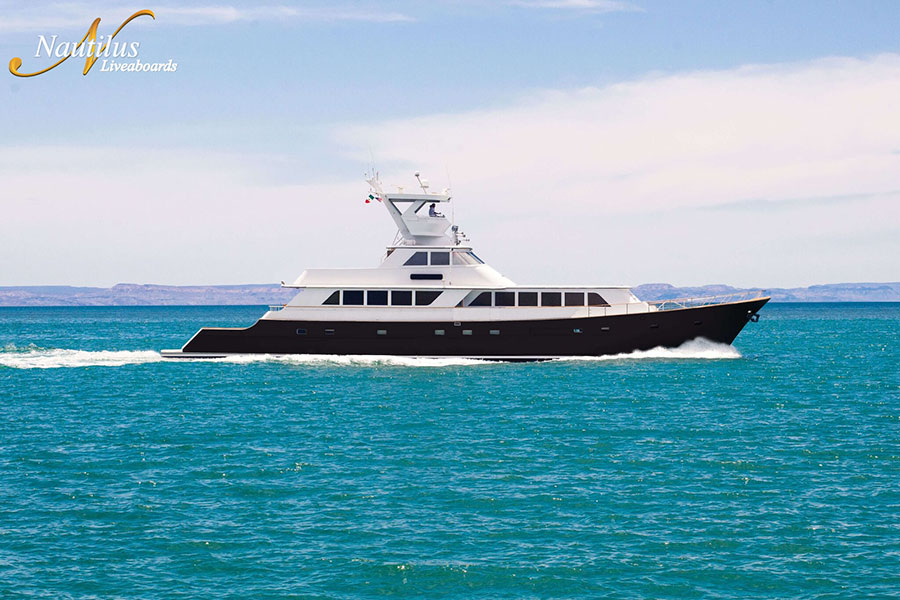 San Ignacio Lagoon Gray Whales
After your adventure in Loreto and the Mechudo Corridor, return to La Paz for your private charter flight to San Ignacio Lagoon. We will be waiting for you with a tray of champagne after your scenic flight over Baja.
Baja is the only place in the world where gray whales swim up to pangas to be stroked, petted, kissed, and even hugged. It's incredible. Interaction is entirely on the whales' terms, with mama whales even pushing their calves against the side of the boats to be stroked. Nobody should miss out on this experience.
It's almost impossible to imagine how amazing these whale interactions are but there is even more to the lagoon than the whales. The camp is nestled in the desert on the edge of the lagoon and surrounded by tall mesas. Venture out to the vast salt flats which are dazzling white. Go for a walk, hiking, biking, kayaking, and bird watching are all additional pastimes at the lagoon. you might see coyotes, bobcats, herons, ospreys, and beautiful white egrets. This is the most amazing whale experience in the world.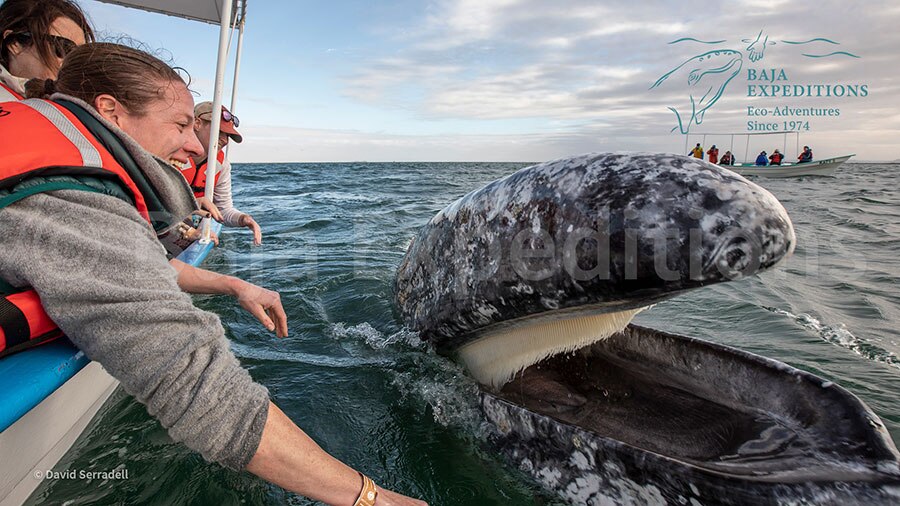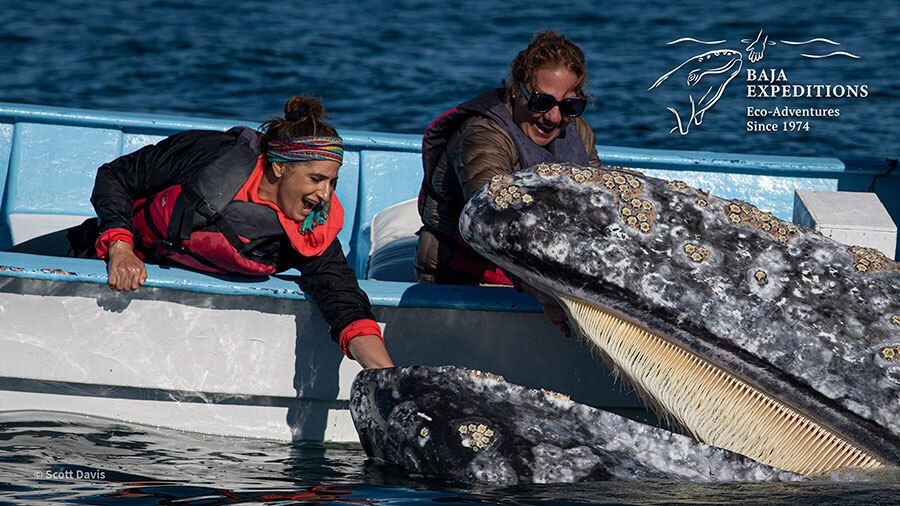 Wilderness Glamping
Our wilderness tents have been carefully placed along the shoreline so you can enjoy uninterrupted views over the lagoon in total privacy. Say "NO" to tiny tents with cots, sleeping bags, and a couple of shared toilets and showers for the whole camp!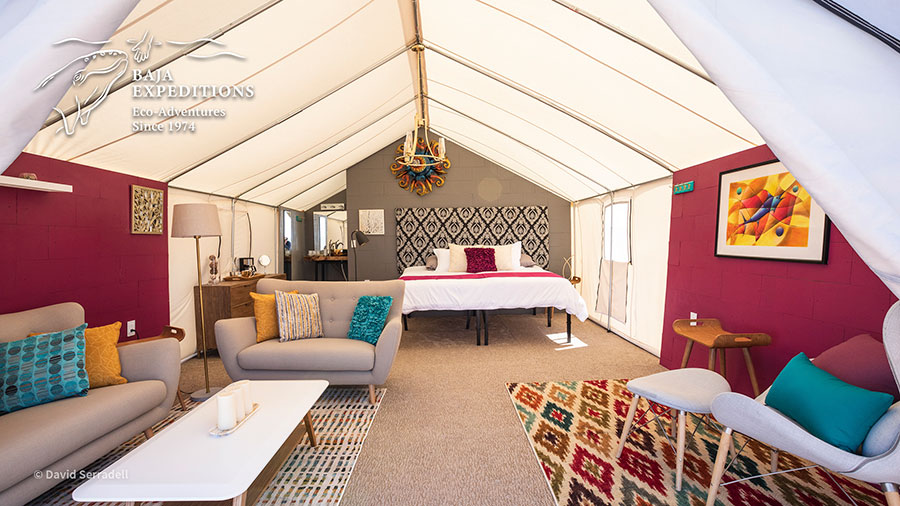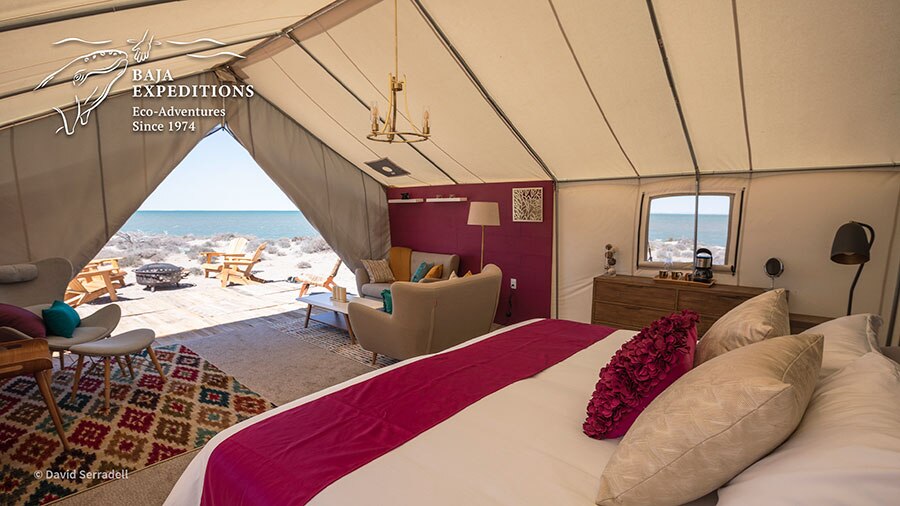 Your comfort comes first, and this is the only camp to feature real beds and fine linen. The tents are windproof, insulated, and heated for colder nights in the desert, ensuring you get a good night's sleep, with ensuite bathrooms and showers, hot and cold running water with good pressure, and 24- hour power.
The camp is fully catered with amazing food and features fire pits, clubhouse, and an adult area serving fine wine, craft beers, and single malt scotches.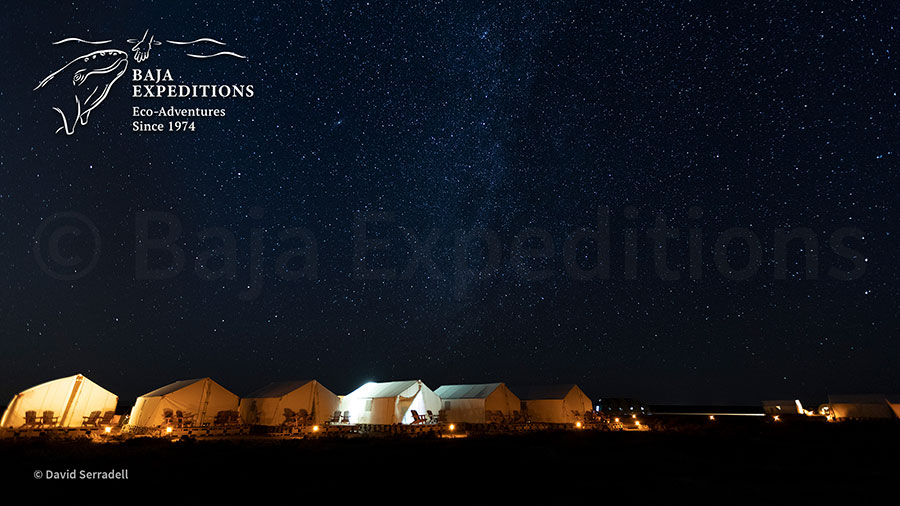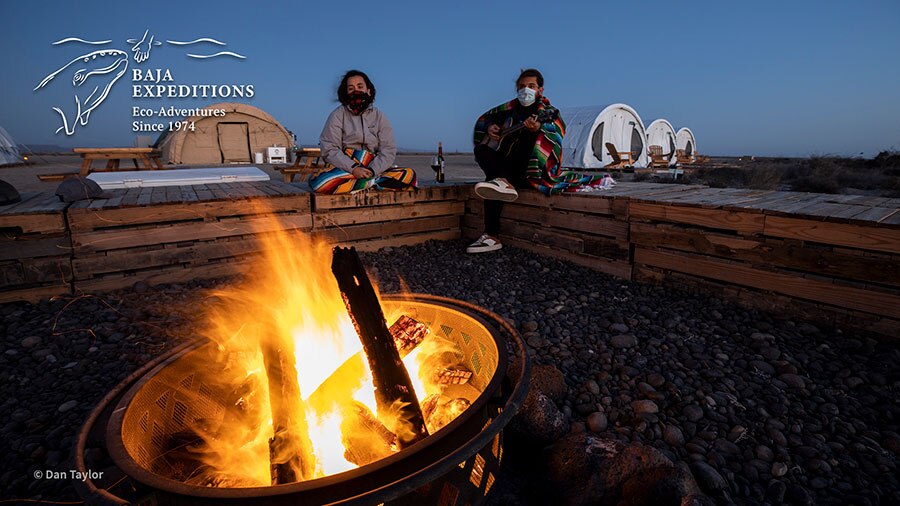 Space is limited so sign up now!
Price:
$4,995 (per person, double occupancy)
Standard Package Includes:
1 Night at the Marea Hotel
3 nights on the Nautilus Galant Lady
3 nights Glamping in San Ignacio
Breakfast, lunch, and dinner daily
Land and air transfers in Mexico
Additional costs:
International airfare to San Jose Del Cabo (SJD)
Accommodations before and after the trip
Drinks
Trip Insurance
Crew tip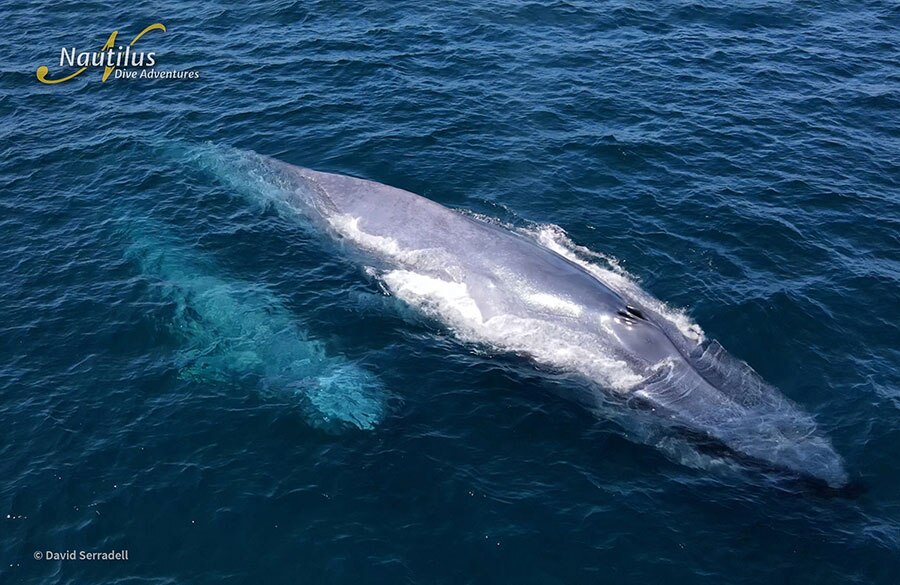 Itinerary:
Feb 12: SeeCreatures / Backscatter Workshop and Ocean Safari.
Head over to SeeCreatures (San Jose del Cabo) to get set up for your adventure!! Meet at 10 am for an optional Backscatter photo and Go Pro workshop. Departing at 12 noon for a 5-hour ocean safari with lunch onboard. Luxury coach transfer to La Paz. Check-in at the Marea Hotel. 19:30 enjoy dinner at this beautiful beachfront hotel.
Feb 13: Whale Sharks, Sea Lions, and Nautilus Gallant Lady
Breakfast at the Marea hotel. Swimming with Whale sharks in the morning and Espiritu Santo Island adventures with Sea Lions in the afternoon. Lunch on the water or beachfront. Mangrove exploration, kayaking, and shore hikes. Late afternoon, board our 116-ft expedition yacht. Cocktail hour and dinner on the Nautilus Gallant Lady. Briefing. Set sail for the Mechudo Corridor.
Feb 14-15: Explore the Mechudo Corridor
The Mechudo Corridor is alive with whales! Whale watching and exploration as far north as Loreto National park. Blue and fin whales, plus humpbacks and often mega pods of dolphins. We'll be on the lookout for orcas and sperm whales. Our airplane spotter will guide us to the hottest action but our special focus is on Blue whale encounters.
Feb 16: Return to La Paz and Transfer to San Ignacio Lagoon
Morning private aircraft charter flight to San Ignacio Lagoon. We will be waiting with a tray of champagne after your 1-hour 55 minute flight to camp and if you want, head out right away for your first whale encounters. You'll be on the water with the friendliest whales on the planet that afternoon!
Feb 17-18: Gray whales and more Gray whales – Encounters and Interactions
Your choice of three whale encounter sessions a day (weather and park capacity control permitting) or enjoy being in camp. Hiking. Walking. Mountain bikes. Bird watching. Or visit the dazzling white salt flats. Evening presentations by our naturalist.
Feb 19: Whales and Transfer to San Jose del Cabo
Early breakfast. One last morning of Gray whale encounters and then private aircraft charter back to San Jose del Cabo.